Diagnostic medical sonographers are an important part of the healthcare team.  They use specialized equipment to produce images of the inside of the body, from the abdomen and muscles to the heart and blood vessels.  Ultrasound is also used to monitor the health of a developing fetus.
A certificate in medical imaging may be available to students who already hold an Associate or Bachelor's of Science degree in a health related field who wish to become a sonographer. These programs are generally 18-24 months in length, though program completion times may vary depending on specific program requirements.
Specialty certificates are also available to practicing sonographers who wish to expand their education and career opportunities. Entrance requirements may vary, but most programs require students to have completed an Associates Degree in allied health. Below we walk you through some of the specific certificates available in the field.
Types of Ultrasound Certificates
There are various ultrasound certificate programs offered at schools across the country. Some are introductory in nature and provide students with the skills and experience they need to gain employment as an entry-level diagnostic medical sonographer. Others are more concentrated and are ideal for those who have already worked in the field but wish to become more specialized and engage in continuous professional development. Here are some examples of ultrasound certificate options:
Certificate in Diagnostic Medical Sonography
An ultrasound tech certificate program in Diagnostic Medical Sonography consists of both classroom and hands-on teachings in laboratory and clinical settings. Courses include ultrasound principles for examining and understanding various body systems including the abdomen, pelvis (i.e. of pregnant women), breast and the vascular system. Course and practical work delves into areas of biology, physics, ultrasonography equipment and patient care.
DMS certificate programs are typically 18-30 month programs available to students who already have a degree in a health field.
Connect directly with sonography certificate programs near you. Click below for
affiliate/sponsored
program information and to speak with an individual school's admissions representative.
Certificate in Cardiovascular Technology
This profession involves using imaging equipment to examine the heart and blood vessel system, assisting doctors with diagnoses and educating their patients on the ultrasound procedures they are receiving.
An ultrasound certificate in cardiovascular technology includes labs and coursework in biology, health, pathology, medical terminology, and technology along with clinical rotations.
It's Never too Late to go Back to School!
The American Association of Community Colleges, in partnership with the AARP Foundation, has launched the Back to Work 50+/Women's Economic Stability Initiative at 5 community colleges across the country.  Obtaining a certificate or Associate degree at a community college in sonography or another allied health field is a great way to re-engage with the working community.
Achieving a long time goal of academic validation is one of many reasons why,  "older students"—those not straight out of high school—are going to college, like seeking more education for a promotion or for the sheer love of continuous learning.  One of the advantages of returning to school when older is that the student tends to be more purpose-driven and thus will be able to benefit more fully from the education they are receiving. They will be able to apply the new knowledge to the greater wealth of experiences and lessons they've already had or acquired.
Advanced Certificate in Cardiac Sonography
An Advanced Certificate in Cardiac Sonography is generally geared towards health care professionals who have previous experience in ultrasound technology or a related field. Course schedules are often part time or flexible so that students can continue to maintain their existing employment. As part of this specialized ultrasound certificate program, students will complete competency labs or clinicals as well as courses in areas of echocardiography, vascular technology, physics, radiologic research, legal/ethics and more.
Obstetrics & Gynecology Supplemental Certificate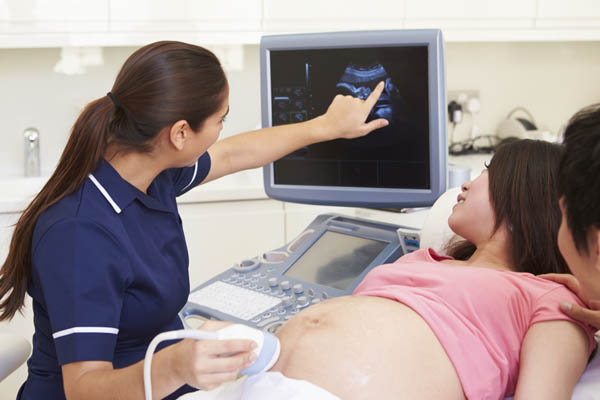 A Supplemental Ultrasound Certificate in Obstetrics & gynecology is generally a program for those who have previous training and/or experience in sonography and who wish to specialize in OB/GYN ultrasound. The curriculum focuses on the anatomy and physiology of the female pelvic region and uterus, embryology and fetal development, pathology, sonography protocols and instrumentation specific to obstetrics and gynecology. It also includes a mixture of clinicals and coursework.
Pediatric Cardiac Sonography Certificate
A Pediatric Cardiac Sonography Certificate, also referred to as a Pediatric Echocardiology Technology Certificate, may be an advanced ultrasound certificate program for experienced sonographers, but in some cases it is offered to those who have just completed a general allied-health program. Students learn how to perform cardiovascular exams (images of the heart and blood vessels) on pediatric patients. The purpose of these ultrasounds, performed on infants and children, is to diagnose cardiovascular diseases and disorders, such as congenital heart disease, heart murmurs and Kawasaki disease.
Point-of-Care Ultrasound (POCUS)
Registered sonographers are eligible to obtain a POCUS Fundamentals Certificate from the Point-of-Care Ultrasound Certification Academy. This program is endorsed by the ARDMS and is available to those interested in getting started in POCUS, or who are in need of CME credits and wish to explore the topic further. POCUS.org states that they "believe that the future of ultrasound is portable and mobile, enabling faster care which leads to efficient, effective and better patient experiences."
Essential Job Duties
Communicating with patients and providing reassurance
Working effectively with people of all backgrounds and abilities
Standing on your feet most of the day
Bending over and stooping down regularly
Assisting patients on and off the examining tables
Accurately performing the steps necessary in a sonographic procedure
Lifting at least 50 pounds
Pushing and pulling without difficulty
FAQs
How long does it take to complete an ultrasound certificate?
Depending on the ultrasound school you attend, ultrasound certificate programs generally take between one to two years to complete. Applicants are expected to already hold an Associate or a Bachelors of Science degree in a related field.
Will an ultrasound certificate program qualify me for licensure?
Yes, in most cases, a certificate in ultrasound will prepare and qualify you to write the ARDMS certification exam. Those who complete a program in diagnostic medical sonography, diagnostic cardiac sonography, vascular technology, or a similar concentration from a CHEA, USDOE or CMA-accredited school are eligible for the ARDMS exam.
Can I complete an ultrasound certificate online?
Generally, as part of an ultrasound certificate program, you are required to complete hands-on components both in laboratory and clinical settings. However, some programs offered to those who are already practicing sonographers will offer supplemental courses online. Other ultrasound certificate programs offer some of their classes online, via Pegasus Lectures for example. Practical classes are provided on campus and at hospitals/clinics.
Job Outlook for Ultrasound Technicians
According to the Bureau of Labor Statistics (BLS), the demand for diagnostic medical sonographers is expected to increase by 15% through to 2031. The BLS adds that in 2022, the mean salary for these professionals was $84,410 a year, with the potential of making over $100,000 a year (conditions in your area may vary).
Depending on the college or university, pre-requisites for admissions into a certificate in ultrasound program range from having your high school diploma/GED to completion of a two-year allied health or patient-care related program and/or previous work experience as a Sonographer.