A degree in Diagnostic Medical Sonography can help provide you with the education and training you need to begin your new career.  Choose from a Certificate, Associate's, or Bachelor's degree at one of the many Accredited schools across the country.
Sonography degree program options include:
1-year certificate
2-year Associate's degree
4-year Bachelor's degree
Getting your sonography degree will ultimately prepare you to complete certification exams through the American Registry for Diagnostic Medical Sonography (ARDMS), the leading credential that hospitals and clinics consider when hiring sonographers/ultrasound technicians.
Connect directly with colleges and universities. Click below for
affiliate/sponsored
program information and to speak with an individual school's admissions representative.
According to the Bureau of Labor Statistics (BLS), the job outlook for diagnostic medical sonographers is very promising. The BLS states that between 2016 and 2026, the number of positions for these professionals should increase by 17%.
Monster.com recently named Ultrasound as one of five "Two-Year Degrees That Pay Off".
There are several different degree levels that are available to pursue, depending on your goals.  In order to get started, an Associate's degree, as well as certification from the ARDMS, is required by most employers.
A sonography degree prepares you for a variety of job functions from introducing future parents to a first look at their baby to identifying abnormalities, such as tumors, growing inside a patient's organs.
As part of a diagnostic medial sonography degree, often you will have the opportunity to specialize in an area such as:
Echocardiography
Obstetric sonography
Vascular technology
Abdominal sonography.
Ultrasound Technician Requirements
An Associate's Degree in Sonography is usually enough to secure a position in this field. The ultrasound technician degree that you pursue depends on your personal interests and job goals.
If you would like to become a diagnostic medical sonographer or ultrasound technician, ultimately your goal is to complete and pass the ARDMS exam. While not all states require such certification, the majority of clinics and hospitals prefer candidates to hold this professional credential.
If your goal is to specialize in an area, teach, or even manage a department, then a Bachelor's in Science with a certificate in Sonography is usually required.  No matter the direction you choose, it's very important to look for the accreditation of the program.
The most common accrediting agency is the Commission on Accreditation of Allied Health Education Programs (CAAHEP), and they have an easy tool to use to help you determine if the ultrasound tech program you're considering is accredited.
Qualities of Successful Sonographers
*Proficient in math
*Interested in anatomy and physiology
*Passionate about patient care
*Dedicated to continual learning
Associates Degree in Sonography
Depending on the school you select, you may complete accredited ultrasound degree requirements at the Associates or Bachelors levels.
An ultrasound associates degree program typically takes two years to complete. Pre-requisites vary from school to school. In some cases the completion of several college-level biology and medical terminology courses are required; in other cases, schools require an Allied-health Associates degree in areas such as radiologic technology, physical therapy or nursing or a Bachelors degree in any major.
An Associates Sonography Degree is a blend of coursework with hands-on clinical rotations. Many programs will offer the opportunity to specialize in one particular area of the ultrasound profession, such as General (abdomen, obstetrics and gynecology), Vascular or Cardiac.

Bachelors Degree in Sonography
A  bachelors degree in sonography is a four-year program consisting of pre-professional and professional courses.
Pre-professional courses consist of those required for any Bachelor of Science in areas of Biology, Math, Computer Science, Physics or Chemistry, plus Liberal Arts, Communications and Social Science classes.
Professional courses delve into several areas of sonography (including gynecology, obstetrics, abdominal, vascular and cardiac) more specialized biology and physics courses (such as sectional anatomy, genetics, pathology and Doppler sonography) and patient-care classes.
A sonography bachelor degree program also includes frequent clinical rotations/internships. In most cases, you will be able to specialize in a certain area of sonography in your final one or two years of the program.
When selecting a program, make sure the school offers the specialization or courses in the area of sonography you are interested in pursuing as a career. Also make sure the program is accredited and meets the guidelines for writing the ARDMS exam after graduation.
Online Associates Degree in Sonography
Important components of an ultrasound degree are the experiences working with imaging equipment in the lab and completing clinical rotations. However, some universities offer online programs either partially or fully, particularly at the Bachelors level.
If you have already completed an Associates degree or certificate program, and have some work experience, then you can complete courses online, to further specialize in a particular area of sonography, without disrupting your current professional and personal schedule.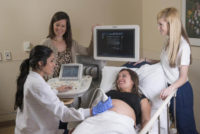 Simulation training
, such as the program highlighted in our interview with the Program Chair of Diagnostic Medical Sonography at Pennsylvania College of Health Sciences, is a great example of why an online degree isn't always the best option.
Some online programs only accept students who are already ARDMS-accredited – meaning they already have their clinical experience. Other schools will offer class work online but still require students to complete clinical rotations in person.
Ultrasound Certificate Programs
One huge benefit of post secondary education is finding out about your career options. When researching potential ultrasound technician degrees, you want to make sure you will have the opportunity to find out about various ultrasound specialties. Look at the course syllabus and concentration options—for example, cardiac, vascular and general (abdominal and OB/GYN)—and if there is more than one clinical placement/internship included.
Ask school advisers what kind of ultrasound specialties they expose students to. Some schools might offer additional specialties that intrigue you, like pediatric or even neurosonography.
Certificates in Sonography are available to individuals who already hold an associate's or bachelor's degree, often in any field. Certificates typically take between 12 and 24 months to complete, and offer students a way to further specialize their education.
Some certificate options include:
Cardiac Sonography
Obstetrics and gynecology
Pediatric Cardiac Sonography
Abdominal and Opthalmologic Sonography
Vascular Sonography
The ARDMS offers 5 different Certificates in sonography, with 10 different corresponding specialty exams.
Main Exam
Specialty Credentials
Credential Earned
Sonography, Principles and Instrumentation (SPI) Exam
Abdomen, Breast, Fetal Echocardiography,
Obstetrics and Gynecology, and Pediatric
Sonography
RDMS
Sonography, Principles and Instrumentation (SPI) Exam
Adult, Pediatric, and Fetal Echocardiography,
RDCS
See full list of ARDMS credentials
FAQ's
How Much Does a Sonography Degree Program Cost?
Costs for completion of an ultrasound technician program vary widely. Factors from location, accreditation, size of the school, and whether it's a public or private, non-profit or for-profit school all affect how much the degree will cost. The Consumer Financial Protection Bureau (CFPB) offers a great resource to compare the true costs, and potential financial aid, of obtaining your education.
What Are The Entrance Requirements?
A high school diploma or GED is required to apply to an ultrasound technician program, and some schools also require college level math and communications courses, completed within the last 5 years. If you're still in high school, elective or AP courses in science, biology, and math can be pursued to make you a more attractive candidate.
Guidance counselors in the high school are a valuable resource to help you plan and apply to secondary education. Also, visiting the website of the schools you're considering applying to will also help you gain an understanding of their entrance requirements.
Are Scholarships Available?
Merit and needs-based scholarships are often available to students who qualify. To see if you qualify for a needs-based application, the first step is to go online  and complete a Federal Application for Student Financial Aid. You will need to know your social security number, and have tax return information available for both yourself, and your parents if applicable.
You will be given a score upon completion of the application, and that score is sent to the schools you're applying at to help determine how much aid you might qualify for.
Merit-based scholarships are based on an academic, athletic, or artistic record in high school. Speak with a guidance counselor at your school (if you're currently a student), and they can help direct you to both local, community scholarships, as well as national merit scholarships.
Some sonography organizations, such as the SDMS, and the International Foundation for Sonography and Education Research (IFSER) also offer scholarship to potential or current sonography students. Research the topic further by visiting our scholarship information sheet.