Imagine seeing an expectant mother's face light up when she sees her baby developing inside her for the very first time  – that pure joy parents express when they see their little one's heartbeat. Obstetric sonographers have the pleasure of witnessing this every day.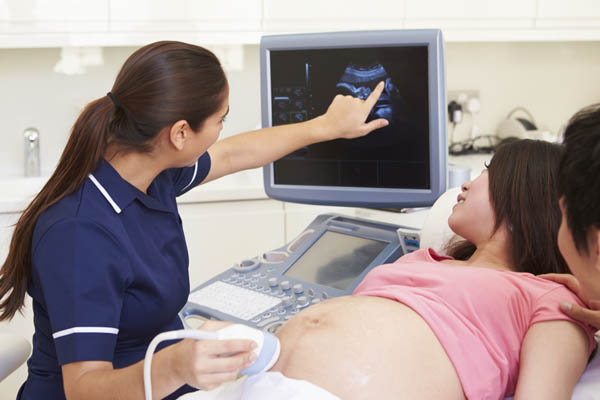 If you're interested in becoming an OB ultrasound technician, begin by requesting information from schools below. Read on to learn about credentials, procedures, and patient care, and share interviews with those in the field.
How to Become an Obstetric Sonographer
An obstetric sonogram or ultrasound is probably the most well known form of sonography.  A sonographer specializing in this area captures images inside a woman's uterus to verify if she is indeed pregnant and to also monitor the growth, development and health of the embryo/fetus inside of her.
While some ultrasonographers may focus on performing obstetric exams it's quite common for them to perform gynecological ultrasounds too—hence the title OB/GYN sonographer.  Obstetric ultrasonographers can work for OB/GYN practices, at hospitals, medical centers, maternal fetal health clinics and other workplaces.
The necessary education and training for an ultrasound tech specializing in OB can typically be completed in two years, with a certification exam available upon completion. Limited obstetrical ultrasound training is also available to nurses who wish to be able to perform ultrasounds on pregnant women, though this will not certify them to perform a complete exam.
Purpose
Obstetric ultrasounds or sonograms are performed on women who are pregnant (or potentially pregnant).
Obstetric sonographers serve many purposes. They determine if an embryo/fetus is indeed present and also assess the health and position of the baby growing inside. They determine the baby's approximate due date and if the mother is carrying multiple embryos/fetuses. As well, obstetric sonographers look for possible abnormalities or disorders, such as a too high or too low amniotic fluid index or developmental defects, and assess the mother's status, such as checking for placenta previa (where the placenta is lying lower than normal, close to or covering the cervix).
While the most common obstetric ultrasounds performed are during the second trimester, an OB sonographer can perform scans at various gestational phases.
Procedure & Instruments
During pregnancy, sonographers generally can perform two types of ultrasounds on their expecting patients. These are called transabdominal and transvaginal ultrasounds.
Transabdominal ultrasounds are the more common of the two. Obstetric sonographers apply a gel to the lower abdominal region of their patients. They use an ultrasound scanner which includes a video display screen, a hand-held transducer and a computer system that serves as an intermediary between the two. The transducer is applied to the patient's lower abdomen and emits sound waves into the body; it almost simultaneously collects "echoes" which are transformed into images onto the monitor. The sonographer, in collaboration with other medical professionals, helps diagnose the images, but also shows parents glimpses of their future child.
While transabdominal ultrasounds are external, transvaginal are internal—the transducer is inserted into the expectant mother's vagina. A transvaginal ultrasound may be ordered for several reasons. For example, if a mother has a history of problem pregnancies, she may have a transvaginal ultrasound done, as this method can yield clearer images during the first trimester compared to transabdominal.
Transvaginal ultrasounds are also used to diagnose miscarriages, ectopic pregnancies and performed for other reasons.
Here's What the Experts Have to Say
Learn more about ectopic pregnancies and the implications for mother and baby, and the role that the sonographer plays in diagnosing them.
Diagnostic medical sonographer and echocardiographer
Chelsey Wright explains in this interview.
An OB sonographer may also perform other tasks, depending on experience, specialty and workplace, such as assisting with ultrasound-guided amniocentesis or percutaneous umbilical blood sampling.
Ultrasound Technology Advancements
Medical ultrasound technology is continuously advancing.
Today, not only is there two-dimensional or 2D ultrasound. There is also 3D ultrasound, and even 4D ultrasound, which capture three-dimensional images. These can either be still three dimensional images (3D ultrasound) or as a moving picture in real time (4D ultrasound).
Generally speaking, a standard prenatal ultrasound is 2D. A doctor may order a more detailed 3D/4D ultrasound if they suspect abnormalities or have concerns about the developing fetus or mom.
There has been some controversy within the medical field about 3D and 4D ultrasound when companies perform non-medically necessary "keepsake ultrasounds". Common services include allowing expectant parents to view their babies in 3D or 4D for longer sessions and to take home photos, videos and more. Ultrasound parties and baby showers are even becoming popular, where often times the baby's gender is revealed in the presence of friends, family, and cake.
Pregnant women considering these services should consult their OB/GYN or family doctor for advice.
Perinatal Sonography
Perinatology sonographers, also referred to as high risk OB sonographers or perinatal sonographers, specialize in high-risk pregnancies. These ultrasound specialists carefully screen for a variety of health problems associated with high-risk pregnancies, such as the mom having a pre-existing health condition or being pregnant with multiples.
These types of advanced OB sonographers generally work under the guidance of obstetricians specialized in maternal fetal medicine, also called perinatologists.
Pursuing a career as a perinatal sonographer requires previous relevant experience, like as an OB/GYN sonographer, and/or additional education, including specialized certifications. (One example of a relevant certification is one in NT or nuchal translucency scans, which are generally performed between 11 and 14 weeks of pregnancy to detect Down Syndrome and other chromosomal abnormalities).
Real Advice From an ObGyn Sonographer

Interview – Sandra McKnight, RDMS, ObGyn Sonographer
Sandra McKnight has been a Registered Diagnostic Medical Sonographer (RDMS) for over 23 years. She was inspired to start her ultrasound career after seeing that first sonogram while pregnant with her first child.
Qualities of an Obstetric Sonographer
Obstetric sonographers have to be interdisciplinary. Not only do they have to have a firm background in biology and physics, be detail-oriented and also adept at using and maintaining ultrasound technology – they also have to be compassionate and personable.
Mothers and their partners going in for an obstetric ultrasound may be experiencing a range of emotions from excitement to fear. Obstetric sonographers need to be able to maintain a calm demeanor while answering any questions their patients may have. OB ultrasound techs also have to expect a range of scenarios—many are times of celebration, but some situations can be quite tragic and scary for the expectant parents.
OB ultrasonographers should also be continuous learners. This not only means formal education, but also acquiring knowledge from and asking more senior and experienced staff for guidance in any case of uncertainty.
Credentials
The ARDMS (American Registry for Diagnostic Medical Sonography) administers the Registered Diagnostic Medical Sonographer (RDMS) credential with the option of specializing in Obstetrics & Gynecology (OB/GYN). There are several pre-requisite options to sit for the ARDMS certification exam, including completion of an ultrasound technician program from an accredited college/university, or completion of an allied-health program coupled with clinical experience.
When researching schools, ultrasound programs may also be listed as "diagnostic medical sonography" or similarly named programs. Various ultrasound schools offer programs where students can specialize in obstetrics through coursework and/or clinical rotations. The curriculum also tends to allow students to gain experience in other specialties too, such as vascular, abdominal and breast ultrasound.
A Meaningful Career


Stephanie Eisler, Sonographer, RDMS, shares her story of personal fears and triumphs, and how she turned them into a "fulfilling career of which (she) can say my heart is truly in it"