Obtain your degree at one of the accredited ultrasound technician schools in Delaware in 2024 and you will be combining a quality education, a strong job outlook, a relatively short educational and training period, and the potential for a high salary. An Associate of Science degree in medical sonography will prepare most students for an entry-level position in a hospital, clinic, or imaging center.  Below we will explore these topics, as well as connect you with accredited sonography schools in Delaware that offer degrees or certificates in medical imaging.
How to Become a Sonographer in Delaware
Apply to an Accredited Ultrasound Program. If possible, find a school that has program-level accreditation from the CAAHEP. Delaware Technical and Community College has such a program in several disciplines within medical ultrasound.
Get Your Degree. You will need to have at least an Associate of Science degree in medical ultrasound. Some schools offer Accelerated Certificates to those who already hold a degree in another subject.
Earn Your Credentials. Your future employer will almost certainly require you to have your RDMS credential. You must meet one of their prerequisites and pass their exam in order to receive this.
Connect with Educational Programs near You
Connect directly with Washington colleges and universities. Click below for
affiliate/sponsored
program information and to speak with an individual school's admissions representative.
Why Choose a CAAHEP Accredited Diagnostic Sonography Program?
A school becomes accredited when they demonstrate that the education they provide to their students meets a minimum standard set forth by an outside agency. In medical imaging and other allied health fields, the primary accrediting body is  the Commission on Allied Health Education Programs (CAAHEP).  Schools earn this distinction once it has met the DMS Accreditation Standards and Guidelines and passed a series of program reviews, including a self-study review and a site visit.
The successful completion of an accredited Delaware ultrasound program is the most comprehensive and direct way students can earn eligibility to sit for the ARDMS​​​​​​​​​​​​​​​​​​​​​ Sonography Principles & Instrumentation (SPI) exam, as well as a specialty exam. Passing both of their exams will allow you to receive professional certification.
If you're currently enrolled in or have been accepted to a CAAHEP accredited program, you're also eligible to apply for the UltrasoundSchoolsInfo $1,000 scholarship. Click here to learn more.
Accredited Sonography Schools in Delaware in 2024
The following schools have been accredited by CAAHEP and offer degrees or certificates in sonography as of September 2023:
School
Programs
Prerequisites
Apply
Delaware Technical and Community College – Wilmington Campus
700 West Lea Blvd
Suite 101
Wilmington, DE 19802
Associate in Science degree with concentration tracks available in General and Cardiovascular sonography
Students will need to demonstrate a high level of success in achieving their course requirement prerequisites.
Apply to either campus of DTCC here
Delaware Technical and Community College – Owens Campus
21179 College Drive
Owens Campus
Georgetown, DE 19947
Associate of Science degree in General medical sonography
Kelly Disidoro BS, RDMS, RVT
Apply to either campus of DTCC here
* This information is obtained from a number of sources, is provided without charge, and is believed to be accurate.  Please contact us with updates.
Student Scholarships and Awards
Below are just a few of the scholarships available to sonography students who qualify:
Scholarship
Award Amount
Eligibility Requirements
How to Apply
Ultrasound Schools Info
$1,000
Aspiring sonographer currently enrolled in/ accepted to a CAAHEP accredited DMS program.
Ultrasound Schools Info
Attn: Scholarship Committee
PO Box 3026
Bellingham, WA 98227
scholarship@ultrasoundschoolsinfo.com
Delaware Scholarship Incentive Program
$1,000 per year
Needs-based scholarship awarded to applicants with a minimum 2.5 GPA.
Complete the FASFA and the ScIP online application.
Diamond State Scholarship
$1,250 per year
Awarded to high school seniors with a minimum GPA of 3.0 and a score of at least 1290 on the SAT or equivalent score on the ACT. Must be enrolled as a full-time student in an undergraduate degree program.
Create a profile and complete the application.

Governor's Education Grant for Unemployed Adults

Up to $2,000

Applicants must possess a high school diploma or GED, be registered with the state's Department of Labor, and receive a recommendation from a DET counselor.

Visit a participating Delaware college.
Horatio Alger Scholarship
$10,000

Need-based awards assisting teenagers who've exhibited determination to overcome adversity and reach higher education. Must have a minimum 2.0 GPA and be pursuing a bachelor's degree.

99 Canal Center Plaza, Suite 320
Alexandria, VA 22314
(844) 422-4200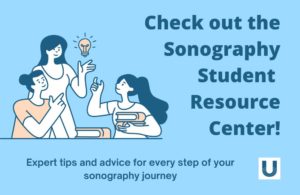 Get Real Advice From Sonography Students, Professionals, and Professors
Visit our student resource center for articles from some of the top sonographers around the country. Whether you're just starting out or looking to move up the career ladder, our experts can help.
How Much do Ultrasound Techs Make in Delaware?
According the the Bureau of Labor Statistics (BLS), diagnostic medical sonographers in Delaware earned a mean annual salary of $80,640 in 2022, or $38.77 an hour. Conditions in your area may vary. The salary you earn depends on a number of factors, including level of education and experience, geographic location, and type of employer (ex. outpatient care centers tend to pay the most).
In addition, growth in the industry is significantly higher than average, with a 24% increase in employment predicted through 2030, according to O*Net.
Certification Requirements in Delaware
The state of Delaware does not require that practicing diagnostic medical sonographers possess licensure or certification. However, many employers prefer or require professional certification by the American Registry for Diagnostic Medical Sonography (ARDMS).
The ARDMS also has a set of prerequisites you must meet in order to take their exam.
Learn More: