Ultrasound technologists are highly trained individuals and are instrumental to patient care. The images they capture of the inside of the patient's body are used by physicians to prevent, detect, and treat disease, as well as monitor the development of a fetus.  Learn all about the field of medical sonography here, and prepare to start the path to your new career.
How to Become a Sonographer in Arkansas
Choose an Accredited Program. Arkansas has three campus sonography programs that have been accredited by the CAAHEP. Learn the prerequisites and get everything in order to apply.
Get Your Degree. Entry level sonography positions require at least an Associate of Science degree in diagnostic medical sonography. Arkansas' campus programs all offer four-year Bachelor's degrees with various concentrations in sonography.
Take the Certification Exam. Most employers will require you to have ARDMS certification. Graduating from a CAAHEP accredited program will automatically qualify you to take their tests.
Due to the high cost of setting up a facility for ultrasound training, some communities cannot offer a program specific to diagnostic medical sonography. In those situations, students may wish to pursue a related career, which may serve as a point of entry into the field of healthcare.
Connect with Educational Programs near You
Connect directly with Arkansas colleges and universities. Click below for
affiliate/sponsored
program information and to speak with an individual school's admissions representative.
Why Select a CAAHEP Accredited Diagnostic Sonography Program?
In sonography, educational programs receive accreditation when they meet the qualifications of an outside agency and can demonstrate their exceptional teaching, training, and clinical instruction abilities.
Schools can become accredited by meeting the Commission on Accreditation of Allied Health Education Programs (CAAHEP) DMS Accreditation Standards and Guidelines. This is achieved by passing a series of program reviews, including a self-study review and a site visit.
The successful completion of one of the CAAHEP accredited Arkansas DMS programs is the most comprehensive and direct way students can earn eligibility to sit for the ARDMS​​​​​​​​​​​​​​​​​​​​​ Sonography Principles & Instrumentation (SPI) examination, which must be passed in order to receive a credential.
Accredited Sonography Schools in Arkansas in 2024
The following schools have sonography degree or certificate programs that have been accredited by the Commission on Accreditation of Allied Health Education Programs as of September 2023:
School
Programs
Prerequisites
Apply
Arkansas State University – Jonesboro
PO Box 910
State University, AR 72467
Bachelor or Science in Radiologic Science (BSRS) with specialty tracks in ObGyn sonography, Abdominal-extended sonography, and cardiac sonography
Certain prerequisite courses are required. Include transcripts with application.
Applications are due by October 31st.
University of Arkansas for Medical Sciences – Little Rock
College of Health Professions
4301 West Markham Street #563-B
Little Rock, AR 72205
UAMS offers a Bachelor's of Science degree in general, cardiac, and vascular imaging.
There are a variety of prerequisite courses that must be taken prior to application.
Applications are due by March 1st.
University of Arkansas Fort Smith
5210 Grand Avenue
PO Box 3649
Fort Smith, AR 72913
Bachelor of Science in Imaging Sciences (BSIS)
with concentration tracks available in ObGyn, Abdominal-Extended, and Vascular sonography.
Prerequisite courses must be completed prior to admission.  Alternate course available for applicants who hold a current, valid ARRT certification.
Begin the application process here.
* This information is obtained from a number of sources, is provided without charge, and is believed to be accurate.  Please contact us with updates.
If you're currently enrolled in or have been accepted to a CAAHEP accredited program, you're also eligible to apply for the UltrasoundSchoolsInfo $1,000 scholarship. Click here to learn more.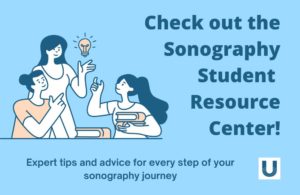 Get Real Advice From Sonography Students, Professionals, and Professors
Visit our student resource center for articles from some of the top sonographers around the country. Whether you're just starting out or looking to move up the career ladder, our experts can help.
Financial Aid and Scholarships
Funding your education is one of the major stressors for students and their families.  Visit our financial aid information platform to learn more about the options for paying for school.
Below are just a few of the scholarships available to those students in Arkansas who qualify:
Scholarship
Award Amount
Eligibility Requirements
How to Apply
Ultrasound Schools Info
$1,000
Aspiring sonographer currently enrolled in/ accepted to a CAAHEP accredited DMS program.
Ultrasound Schools Info
Attn: Scholarship Committee
PO Box 3026
Bellingham, WA 98227
scholarship@ultrasoundschoolsinfo.com
Academic Challenge Scholarship
Varies
Be accepted for admission at an approved institution of higher education in a program of study and complete the FASFA (varies by academic level).
Create an account and login.

Gover

nor's Distinguished Scholars Program

Up to $10,000
Possess a 32 composite score on a single ACT or 1410 combined math and critical reasoning score on a single SAT AND either a 3.50 academic grade point average or selection as a National Achievement Finalist or National Merit Finalist.
Create an account and login.

Cornerstone Charitable Scholarship Trust

Varies

Be a Black/African American student who already holds a high school diploma or GED, is enrolled

full-time at accredited colleges or vocational schools, and is

 economically disadvantaged with significant need.

Complete the application form and send in the required documents.
How Much do Ultrasound Techs make in Arkansas?
Ultrasound technicians in Arkansas earned a mean annual salary of $70,370 in May 2022, according to the Bureau of Labor Statistics. Growth in the industry is expected to grow at a rate faster than normal, with a projected 18% employment increase by 2030 (conditions in your area may vary).
The following table compares median salaries for the metropolitan areas of Arkansas (May 2021).
| Location | Annual Salary |
| --- | --- |
| Jonesboro, AR | $73,070 |
| Little Rock | $66,030 |
| Fayetteville-Springdale-Rogers, AR-MO | $69,180 |
Ultrasound Tech Certification Requirements in Arkansas
While Arkansas does not require their diagnostic medical sonographers to be licensed or certified, some states are considering moving towards licensure. Additionally, many employers do require professional certification, typically by the American Registry for Diagnostic Medical Sonography (ARDMS).
The ARDMS has a set of prerequisites that students must meet in order to be eligible for the exam. Click here to see a full list.
Additional Certification Information
Certification overview
About the ARDMS
Other Resources
City Spotlight: Little Rock
Ultrasound Technician Schools in Little Rock
Little Rock, located in the center of Arkansas, is the second fastest-growing region in the country and a hub for job growth in the healthcare industry. If you're considering pursuing your sonography degree in Little Rock, the University of Arkansas offers a great program accredited by the CAAHEP. If that program is unavailable to you, you may want to consider pursuing a career in one of the many Allied Health fields that are also expecting strong job growth in the Little Rock area.
Ultrasound Programs in Nearby States