Learn More About Pennsylvania's Sonography Programs for 2023.
Using the power of sound waves, diagnostic medical sonographers perform ultrasound imaging procedures on patients, which allows them to capture photos of their internal organs or vascular system. Referring physicians  then use these images to diagnose and treat a wide range of conditions, as well as monitor the growth of a fetus.
If you're considering pursuing a career as an ultrasound tech, the program is rigorous and competitive, but the job can be quite rewarding. The field of Sonography is seeing tremendous growth across the country in part because of the relatively high salary and shorter education and training period. Most starting positions require just an Associate Degree.  We will explore these topics further below, as well as connect you with accredited ultrasound technician schools where you can receive the education you need to become a sonographer.
How to Become an Ultrasound Tech in PA
Choose the Right Program. Accreditation of the program itself, and not just the school, is one of the most important factors to consider when applying. If possible, select a program that has been accredited by the Commission on Accreditation of Allied Health Education Programs (CAAHEP). This will ensure that the education they provide will meet or exceed industry standards. Pennsylvania has 13 programs that have received this recognition.
Get Your Degree. Sonographers must have a minimum of an Associate of Science degree in DMS. Some schools offer Accelerated Certificate programs to students who already hold a degree, and there are also Bachelor's Degree programs available.
Receive Your Credentials. Your employer will want you to have your RDMS credential, which is offered by the American Registry for Diagnostic Medical Sonography (ARDMS). If you graduate from a CAAHEP accredited program you will automatically qualify to sit for their exams.
Connect with Educational Programs near You
Connect directly with Pennsylvania colleges and universities. Click below for
sponsored
program information and to speak with an individual school's admissions representative.
Why Choose a CAAHEP Accredited Diagnostic Sonography Program?
For a program to be accredited means that it has been reviewed by an outside agency for the purpose of verifying the quality of the education and training.
The primary accrediting body for sonography programs is the Commission on Accreditation of Allied Health Education Programs (CAAHEP). Graduating from a CAAHEP accredited Pennsylvania school is the most comprehensive and direct way students can qualify to sit for the ARDMS​​​​​​​​​​​​​​​​​​​​​ Sonography Principles & Instrumentation (SPI) exam, as well as a specialty exam. Passing both of their exams will allow you to receive professional certification in diagnostic medical sonography.
If you're currently enrolled in or have been accepted to a CAAHEP accredited program, you're also eligible to apply for the UltrasoundSchoolsInfo semi-annual $1,000 scholarship. Click here to learn more.
Accredited Sonography Schools in Pennsylvania in 2023
The following schools all have degree or certificate programs in medical sonography, as of February 2023:
School
Program
Prerequisites
Apply
Community College of Allegheny County -595 Beatty Road, Monroeville, PA 15146
Associate Degree in  General sonography, Cardiac ultrasound; and Vascular ultrasound.
Successful completion (C of better) of several 100 level math, science, and biology courses are required before admittance. It is also recommended that the applicant has job shadowed in an ultrasound department before applying. Full list of prerequistes can be found here.
Begin your application to CCAC here.
Crozer-Chester Medical Center One Medical Center Blvd
Pearl Hall
Upland, PA 1901
Bachelor's of Science Degree in Diagnostic Medical Sonography.
Full time attendance is required, with a five-semester time period given for DMS certificate completion. A grade of B is required in all classes in order to remain in the program. Re-admittance is not allowed.
A maximum of eight students are admitted each year. Contact the school's Undergraduate Extended Learning department at gel@widener.edu to learn more.
Great Lakes Institute of Technology
5100 Peach Street
Erie, PA 16509
Associate of Science degree in Abdominal-Extended or ObGyn sonography
The program at GLIT is intended for those with no background experience in sonography. A full list of requirements from GLIT can be found at https://glit.edu/admissions.
Begin the online application process here.
Harrisburg Area Community College
One HACC Drive
Blocker 106-B
Harrisburg, PA 17110
 Associate of Science degree in ObGyn or Abdominal-Extended sonography.
Admissions criteria: HACC has created a downloadable PDF that with all the requirements.
Applications are available from March 1st through April 15th of each year.
Lackawanna College
501 Vine St
Scranton, PA 18509
Associate degree in Vascular, Adult Cardiac, Abdominal-Extended, or ObGyn Sonography.
A maximum of 20 students are accepted into the general program, and 25 for vascular and cardiac. Not all who apply are accepted.
Complete the online form to request information from Lackawanna.
Misericordia University
DMS Program
301 Lake Street
Dallas, PA 18612
Bachelor's Degree or an 18-month DMS certificate in Abdominal-e\Extended or ObGyn sonography.
Prerequisites vary depending on degree path chosen.
Apply to the school first, and once accepted you may apply to their medical imaging program.
Mount Aloysius College
7373 Admiral Peary Highway
Cresson, PA 16630
Associate of Science degree in Abdominal-Extended or ObGyn sonography.
Certain college-level courses must be completed prior to application.
Applications should be submitted by January 1st of each year.
Northampton Community College
3835 Green Pond Road
Bethlehem, PA 18020
 Associate in Applied Science in Abdominal-Extended or ObGyn Sonography.
College-level prerequisites in math, science, and English with a minimum GPA of 3.0.
The deadline for applying to the sonography program is February 1st of each year.
Pennsylvania College of Health Sciences
850 Greenfield Road
Lancaster, PA 17601
Certificate program in Abdominal-Extended, ObGyn, or Vascular sonography.
Applicants must have completed several courses English, math, and science with a grace of C or better. Find a full list of requirements can be found here.
Begin the application process here.
Reading Hospital School of Health Sciences
1025 Old Wyomissing Rd
Reading, PA 19611
Accelerated Certificate program in ObGyn or Abdominal-Extended Sonography.
Completed applications must include all required transcripts, support materials, and standardized test scores, if applicable. After June 1, applications will be processed for the next class.
Begin the online application here.
South Hills School of Business and Technology
480 Waupelani Drive
State College, PA 16801
Associate Degree or Diploma programs in Adult-Cardiac, Vascular, Abdominal-Extended, or ObGyn Sonography
Admission requirements vary depending on whether you're applying for the Associate Degree or the diploma program.
Students apply online at http://www.southhills.edu/application/.
Thomas Jefferson University
901 Walnut St Suite 704
Philadelphia, PA 19107
TJU offers Bachelor's degrees in Adult-Cardiac, ObGyn, or Abdominal-Extended sonography.
Students must first be admitted to the University and may then apply to the medical imaging department.
Schedule a visit and learn more about the admissions process at Thomas Jefferson.
Westmoreland County Community College
145 Pavilion Lane
Youngwood, PA 15697
 Associate in Science degree in Abdominal-Extended or ObGyn sonography
College-level prerequisite course must be completed, with a grade of "C" or better, prior to application.
Applications must be submitted by January 12 for a Fall start.
* This information is obtained from a number of sources, is provided without charge, and is believed to be accurate.  Please contact us with updates.
Dr. Traci Fox EdD, RT(R), RDMS, RVT, DMS professor at her alma mater, Thomas Jefferson University
Dr. Traci Fox EdD, RT(R), RDMS, RVT has been a sonographer for over 20 years, but she's been intrigued by the sciences since grade school.
She is currently a full time Diagnostic Medical Sonography professor at her alma mater, Thomas Jefferson University where she earned her Bachelor and Masters of Science degrees. She later earned her Doctorate in Education from Drexel University. Learn more about the program at TJU in our interview with Dr. Fox.
Pennsylvania Sonography Student Scholarships
Pursuing your education can be an expensive endeavor, and scholarships can help offset some of the costs for those who qualify. Along with potential financial aid, scholarships can be used to help pay for tuition, books, and sometimes living expenses. Learn more by visiting our Financial Aid center.
A few of the scholarships that are available to students who qualify are listed below. The application and other details can be found by visiting the individual scholarship's website that you're interested in pursuing.
Scholarship
Award Amount
Eligibility Requirements
How to Apply
Ultrasound Schools Info
$1,000
Semi-annual, non-renewable scholarship awarded to an aspiring sonographer currently enrolled in a CAAHEP accredited diagnostic medical sonography program.
Ultrasound Schools Info
Attn: Scholarship Committee
PO Box 3026
Bellingham, WA 98227
Pennsylvania State Grant Program
Varies
Needs-based award for high school graduates attending an approved program.
Scholarship Committee
info@pheaa.org
NAAAP Philadelphia
$1,000
Asian or Asian-Americans attending a greater-Philadelphia accredited college.
Scholarship Committee
P.O. Box 473
Philadelphia, PA 19105
M. Verna Butterer Educational Trust
$16,000
Applicant must be at least a 2-year resident of Bucks County, PA, and demonstrate financial need.
M. Verna Butterer Educational Trust
P.O. Box 273
Fountainville, PA 18923
215-249-0503
Ultrasound Tech Certification Requirements in Pennsylvania
Currently, there are no licensure or certification requirements for diagnostic medical sonographers in Pennsylvania. However, it is almost certain that prospective employers will require that you get your RDMS credentials from the American Registry for Diagnostic Medical Sonography (ARDMS).
The ARDMS is an organization that provides the most highly regarded certification to sonographers. The only way to earn their certification is by taking and passing their exam. Once you have met the ARDMS' prerequisites, there are many testing locations where you can take the exam in Pennsylvania.
Additional Certification Information
DMS Certification Overview
Learn More About the ARDMS
Advice From a Graduate of Pennsylvania College of Health Sciences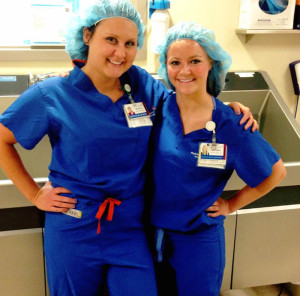 Jessica Carlino, RDMS, RVT, is a diagnostic medical sonographer and registered vascular technician working in Lancaster, Pennsylvania.
She is a graduate from the Diagnostic Medical Sonography program at Pennsylvania College of Health Sciences (PA College).
In Jessica's interview, she shares her experience of studying sonography and working in the field at Lancaster General Health Physicians Surgical Group. She also offers advice on how to become a successful student and sonographer.
"Successful sonography students should have a strong work ethic and understand how to communicate with others. Sonography is a challenging program, and is a constantly changing profession."

– Jessica Carlino, RDMS, RVT, graduate of Pennsylvania College of Health Sciences
How Much do Ultrasound Techs Make in Pennsylvania?
According to the Bureau of Labor Statistics (BLS 2021), the mean annual salary for sonographers in Pennsylvania is $74,500. In addition, those in the top 90th percentile made a mean annual salary of $96,140, while those in the bottom 10th percentile earned up to $55,530 a year. Conditions in your area may vary.  In Pennsylvania, job growth is predicted to increase by 17% by 2030 (O*Net).
| Metropolitan Area | 2020 Mean Salary |
| --- | --- |
| Pittsburgh, PA | $63,100 |
| Scranton–Wilkes-Barre–Hazleton, PA | $65,030 |
| Allentown-Bethlehem-Easton, PA-NJ | $72,240 |
| Philadelphia-Camden-Wilmington, PA-NJ-DE-MD | $72,620 |
Advice From the Pennsylvania College of Health Sciences
Emily Long, part of the communications team at Pennsylvania College of Health Sciences in Lancaster, PA, enjoys writing about current trends in health care and helping students get the information they need to land a job in their desired career field.
"Applying for your first job as a sonographer can seem daunting. But there are lots of great ways to start enhancing your resume before you even graduate. Applying a few of the suggestions discussed here can help you get ahead of the curve." In this article she talks about how to build your resume while still in school to help you land your dream job upon graduation.
Medical Imaging Organizations in Pennsylvania
Belonging to a society or organization within your chosen field has many benefits. Networking with your peers, staying up to date on new technologies and procedures, and remaining current with continuing medical education (CME) requirements can all come from membership with these organizations.
Some examples of medical imaging societies in Pennsylvania are listed below:
Click here for more information regarding ultrasound societies and organizations.
City Spotlight: Philadelphia, PA
In 2014, Thomas Jefferson University was awarded "Best Radiologic Technologist Training Program" by the RSNA. The Jefferson School of Health Professions Department offers a Bachelor's and Master's program in Medical Imaging & Radiation Sciences where students can choose from a variety of modalities to specialize in, such as nucelar medicine, cardiac, vascular, and general sonography. TJU is just one of several schools in Philadelphia that offers training to aspiring ultrasound technicians and other medical imagers.
There were around 1,500 sonographers working in Philadelphia in 2020 who made an average of $72,620 a year. In addition, job growth state wide is predicted to increase by 15% within the next 6 years (O*Net).
Keep Exploring! Find Other Articles & Interviews Below.