Diagnostic medical sonographers are highly trained and skilled medical professionals that use specialized equipment to image the inside of the body.  Use of ultrasound as a modality is growing within modern medicine and careers are following suit.
Medical sonographers are some of the highest paid professionals within allied health, and entry-level positions typically require just an Associate of Science degree.
How to Become a Sonographer in Iowa
Choose Your Ultrasound School. It's important to research the accreditation of the program that you're interested in. The CAAHEP is the most widely recognized accrediting agency, and Iowa has three programs that have received their recognition.
Get Your Degree. The minimum education required for sonographers is an Associate of Science degree in DMS. Their are also Bachelor's Degree programs available, such as those offered by Allen College and the University of Iowa.
Pass the Certification Exam. Almost every employer will require certification from the ARDMS. Graduating from a CAAHEP accredited program will qualify you to sit for their exams.
Connect with Educational Programs near You
Connect directly with Iowa colleges and universities. Click below for
affiliate/sponsored
program information and to speak with an individual school's admissions representative.
Why Choose a CAAHEP Accredited Diagnostic Sonography Program?
Choosing a program that is accredited is one of the most important decisions you'll make in your journey to becoming a sonographer.
The primary accrediting body for sonography programs is the Commission on Accreditation of Allied Health Education Programs (CAAHEP).  A school becomes accredited by the CAAHEP once it has met their DMS Accreditation Standards and Guidelines as well as passed a series of program reviews, including a self-study review and a site visit. This ensures that the school can provide a high quality education to their students and prepare them to enter the healthcare workforce.
The successful completion of one of these accredited Iowa DMS programs qualifies students to sit for the ARDMS​​​​​​​​​​​​​​​​​​​​​ Sonography Principles & Instrumentation (SPI) exam, as well as a specialty exam. Passing both of their exams will allow you to receive professional certification in diagnostic medical sonography.
If you're currently enrolled in or have been accepted to a CAAHEP accredited program, you're also eligible to apply for the UltrasoundSchoolsInfo $1,000 scholarship. Click here to learn more.
CAAHEP Accredited Sonography Schools in Iowa in 2023
The following schools in Iowa have all been accredited by CAAHEP and offer certificates or degrees in diagnostic medical sonography as of September 2023:
School
Programs
Prerequisites
Apply
Allen College
1990 Heath Street
Waterloo, IA 50703
Certificate or Bachelor of Health Sciences Degree
Degree and course prerequisites vary depending on the educational path chosen
Application packet can be found here.
Mercy College of Health Sciences
928 6th Avenue
Des Moines, IA 50309
5-Semester program with a General or Cardiovascular Sonography Tract available
Certain college-level course requirements must be completed prior to application.
Application deadline is January 1st
University of Iowa Healthcare
200 Hawkins Drive
Iowa City, IA 52242
3-year program with specialty track in either General and Vascular or Cardiac and Vascular Sonography
Numerous course requirements as well as job shadowing hours prior to application.
Applications are due by January 15th of each year
* This information is obtained from a number of sources, is provided without charge, and is believed to be accurate.  Please contact us with updates.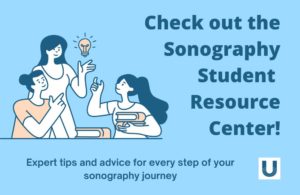 Get Real Advice From Sonography Students, Professionals, and Professors
Visit our student resource center for articles from some of the top sonographers around the country. Whether you're just starting out or looking to move up the career ladder, our experts can help.
Scholarships and Grants for Sonography Students
College is expensive, and help is available.  There are grants, loans, and scholarships available to students who qualify, and it's important to know the difference and how they can help you.  Visit our Financial Aid portal to learn more.
Below just a few of the scholarships and awards available to those who qualify in Iowa:
Scholarship
Award Amount
Eligibility Requirements
How to Apply
Ultrasound Schools Info
$1,000
Aspiring sonographer currently enrolled in/ accepted to a CAAHEP accredited DMS program.
Ultrasound Schools Info
Attn: Scholarship Committee
PO Box 3026
Bellingham, WA 98227
scholarship@ultrasoundschoolsinfo.com
Robert C. Byrd Honors Scholarship Program
$1,500 on average
Academically talented high school graduates accepted to a higher education program.
Todd Brown
Iowa State Department of Education
515-725-3450
todd.brown@iowa.gov
Iowa Tuition Grant
Up to four years full time for an undergraduate study
Undergraduate students enrolled in an Associate's or Bachelor's program in Iowa and demonstrates appropriate financial need.
Complete the FASFA.
Society of Diagnostic Medical Sonography Student Scholarship
$2,500
Awarded to students enrolled in a CAAHEP accredited sonography or cardiovascular technology program.
Complete the online application.
How Much do Ultrasound Techs Make in Iowa?
The mean annual salary for sonographers in Iowa was $76,050 in 2022, according to the Bureau of Labor Statistics (BLS). Entry-level sonographers can earn up to about $62,000 a year, and seasoned scanners can earn as much as $95,000 per year.  Conditions in your area may vary.
The salary you earn depends on a number of factors, including level of education and experience, geographic location, and type of employer. For example, outpatient care centers tend to pay the most, while larger imaging centers and hospitals may competitive benefit programs in addition to the base salary. An Associate Degree is required to become an entry level sonographer, but earning a Bachelor's Degree may open you up to higher paying job positions.
The following table provides the annual mean salary for ultrasound techs in different locations in Iowa:
| Metropolitan Area | 2022 Mean Salary |
| --- | --- |
| Davenport-Moline-Rock Island, IA-IL | $73,020 |
| Des Moines-West Des Moines | $79,220 |
| Iowa City | $72,250 |
| Cedar Rapids | $79,510 |
Ultrasound Tech Certification Requirements in Iowa
There is currently no licensure or certification requirement for diagnostic medical sonographers in Iowa. However, many employers prefer or require sonographers to receive certification from the American Registry for Diagnostic Medical Sonography (ARDMS). The only way to earn ARDMS certification is by taking and passing their exam. In order to qualify, you must meet one of their prerequisites. Graduating from a CAAHEP accredited ultrasound school will automatically qualify you to take the test, and many schools coordinate the test with the last quarters or semester of the program.
Additional Certification Information
Certification overview
About the ARDMS
Tips on Passing the SPI
City Spotlight: Des Moines
Ultrasound Technician Schools in Des Moines

The economy in Des Moines is booming and has made many top ten lists, including #2 in Forbes "Best Place for Business and Careers" and #1 in their "Best City for Young Professionals" list. The low unemployment rate, high job growth forecast, and the low cost of living make Des Moines a great place to pursue a career as a diagnostic medical sonographer or allied health professional.
Income for sonographers in the Des Moines metropolitan area is ahead of the rest of the state, with the mean salary in 2022 being $79,220 per year.
Frequently asked questions
What does an ultrasound technician in Iowa do?
Sonographers do much more than just image internal organs. They also work closely with other members of the healthcare team and patients, and evaluate the images they capture. Learn more on our ultrasound technician career overview page. Get a complete job description, as well as first-hand accounts of what it's like to be a sonographer.
How do I get started as a medical sonographer in Iowa?
We'll walk you through all of the steps, starting when you're still in high school or before you've started a formal post-education program, all the way through finding a job and advancing in your career. Get Started Now.
How long do I have to go to school?
Most degree programs are completed within two years, which will allow you to earn an Associate's Degree, though program lengths can vary depending on specific program requirements. You can also go to school longer and receive a Bachelor's or Master's Degree, which will allow you to advance your career and increase your salary.
How do I know if sonography is right for me?
In order to be successful in the field, you'll need more than just technical knowledge. Find out about the qualities that make a great sonographer!
What other jobs can I get in healthcare?
There are many careers available within the healthcare industry other than diagnostic sonography, and we'll introduce you to many of them here.