Diagnostic medical sonographers play an important role in the care of their patients and within the healthcare industry as a whole. Working closely with physicians, ultrasound techs use specialized equipment that uses sound waves to produce images of the inside of the body.
Sonography, along with other healthcare technician fields, is becoming an increasingly popular career choice in part because of the potential for a high salary, relatively short education and training period, and strong job growth.
How to Become a Medical Sonographer in Louisiana
Choose an Accredited Ultrasound Program. The accreditation of a program is one of the most important factors to research when you're deciding where to apply. In Louisiana, there are 3 campus programs that have been accredited by the CAAHEP, which is the most widely recognized accrediting body within allied health.
Get Your Degree. You must have at least an Associate Degree in Diagnostic Medical Sonography in order to work as a sonographer in Louisiana. In some instances, Certificate programs are appropriate if you qualify to apply based on previous educational achievements.
Pass the Certification Exam. Any prospective employer will almost certainly require that their medical sonographers be certified by the ARDMS. Graduating from a CAAHEP accredited program will qualify you to sit for the exam.
Connect with Educational Programs near You
Connect directly with Louisiana colleges and universities. Click below for
affiliate/sponsored
program information and to speak with an individual school's admissions representative.
Why Choose a CAAHEP Accredited Diagnostic Sonography Program?
The most widely recognized accrediting body for sonography programs is the Commission on Accreditation of Allied Health Education Programs (CAAHEP). A school becomes accredited by the CAAHEP once it has met their Accreditation Standards and Guidelines as well as passed a series of program reviews, including a self-study review and a site visit. The purpose of these reviews are to make sure that the school can offer a quality education to their students as they prepare to enter the healthcare workforce.
The successful completion of a CAAHEP accredited ultrasound degree program in Louisiana is the most comprehensive and direct way students can earn eligibility to sit for the ARDMS​​​​​​​​​​​​​​​​​​​​​ Sonography Principles & Instrumentation (SPI) exam, as well as a specialty exam. Passing both of their exams will allow you to receive professional certification in diagnostic medical sonography.
If you're currently enrolled in or have been accepted to a CAAHEP accredited program, you're also eligible to apply for the UltrasoundSchoolsInfo $1,000 scholarship. Click here to learn more.
Accredited Sonography Schools in Louisiana in 2024
The schools listed below offer degree or certificate programs in medical sonography that have been accredited by the CAAHEP as of October 2023:
School
Programs
Prerequisites
Apply
Baton Rouge Community College
201 Community College Drive
Baton Rouge, LA 70806
Associate of Applied Science in Diagnostic Medical Sonography
Prerequisites courses completed with a "C" or better and a minimum score achieved on the sonography admission exam.
Applications are accepted during Fall semester.
Delgado Community College
615 City Park Avenue
New Orleans, LA 70119
Associate of Science in DMS
2-year Associate Degree in an accredited Allied Health Program, plus certain prerequisite courses.
Applications must be submitted by May 1st of each year.
Louisiana State University
PO Box 1129
Eunice, LA 70535
Associate of Applied Science in DMS
Prerequisite courses with grade of "C" or better, work history of a full year in health-related or customer-service oriented field.
Applications are accepted in the Spring for a Fall start.
* This information is obtained from a number of sources, is provided without charge, and is believed to be accurate.  Please contact us with updates.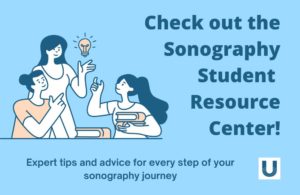 Get Real Advice From Sonography Students, Professionals, and Professors
Visit our student resource center for articles from some of the top sonographers around the country. Whether you're just starting out or looking to move up the career ladder, our experts can help.
Louisiana Student Scholarships and Awards
There are numerous scholarships available to students, as well as grants and student loans.  It's important to be informed so that you make the right decisions for you.  Visit our Financial Aid Portal to learn about your options.
Below you will find just a few of the scholarships and awards available to those students in Louisiana who qualify:
Scholarship
Award Amount
Eligibility Requirements
How to Apply
Ultrasound Schools Info
$1,000
Aspiring sonographer currently enrolled in/ accepted to a CAAHEP accredited DMS program.
Ultrasound Schools Info
Attn: Scholarship Committee
PO Box 3026
Bellingham, WA 98227
scholarship@ultrasoundschoolsinfo.com
Louisiana Go Grant
$300-$3,000
Enroll in a Louisiana institution on at least a half-time basis and demonstrate financial need.
Complete the FASFA.
The Alan D. Waggoner Sonographer Student Scholarship Award
$1,000
Students attending a CAAHEP accredited program with an interest in echocardiography and leadership.
American Society of Echocardiography
The Society for Cardiovascular Ultrasound Professionals
2530 Meridian Parkway, Suite 450
Durham, NC 27713
919-861-5574
Robert C. Byrd Honors Scholarship Program
$1,500 on average
Academically talented high school graduates accepted to a higher education program.
Todd Brown
Iowa State Department of Education
515-725-3450
todd.brown@iowa.gov
How Much do Ultrasound Techs Make in Louisiana?
According to the Bureau of Labor Statistics (BLS), the mean annual salary for sonographers in Louisiana in 2022 was $64,860, or $31.18 per hour. Conditions in your area may vary.
Where you work, your amount of education, whether or not you received certification from the ARDMS, and more play a role in how much you can earn. Diagnostic medical sonography is one of the highest paying careers available with just an Associate of Science Degree, and it's growing at a rapid pace. Earning a Bachelor's Degree may open you up to higher paying positions as well.
Geographic location also impacts your salary. Below are the mean annual wages for several areas in Louisiana in 2022:
| | |
| --- | --- |
| Metropolitan Area | Mean Salary |
| Baton Rouge, LA | $68,830 |
| Lafayette, LA | $66,950 |
| New Orleans-Metairie, LA | $61,420 |
| Shreveport-Bossier City, LA | $67,660 |
Certification Requirements in Louisiana
The state of Louisiana does not currently require their diagnostic medical sonographers to be licensed or certified. However, many states are discussing making the move toward required licensure, so it's important to consider.  A prospective employer will most likely require certification from the American Registry for Diagnostic Medical Sonography (ARDMS). The only way to earn their certification is by taking and passing their exam. Once you have met one of their prerequisites, you can take the exam at one of the various testing locations in Louisiana:
2800 Veterans Memorial Blvd STE 256, Metairie, LA 70002
5555 Hilton #430, Baton Rouge, LA 70808
920 Pierremont Rd, Shreveport, LA 71106
4000 S Sherwood Forest Blvd #503, Baton Rouge, LA 70816
Additional Certification Information
Certification overview
About the ARDMS
Tips on Passing the SPI
City Spotlight: New Orleans
Ultrasound Technician Schools in New Orleans
Employment for sonographers in city centers such as New Orleans is growing as jobs move towards urban centers and away from the suburbs. New Orleans is quickly becoming a hub for the rapidly growing medical industry. "One of the key critical pieces for New Orleans and Louisiana in general is workforce. We need a workforce that knows how to work in a lab environment, in a clinical environment." (Aaron Miscenich, New Orleans BioInnovation Center). Become a part of the flourishing healthcare workforce by attending a sonography program in New Orleans, or look into one of the many related medical programs.
Other resources: