If you are interested in pursuing your education at an ultrasound technician school in Idaho in 2020, you'll be presented with a favorable job outlook upon graduation, and we'll help connect you with schools in your area.  Growth in the field of medical imaging is expected to far outpace the average job growth in the country, with Idaho predicting an increase in jobs for sonographers of 25% by 2024. Salaries are also strong, with sonographers earning a median salary of $70,710 per year in 2016.

Take your first step to an in-demand career by requesting information from an ultrasound technician school in Idaho.  If you don't see a sonography program in your area, you may want to consider one of the other health programs listed below.  You'll get the opportunity to ask questions from a representative to see if they have the programs you're looking for.
Connect with Educational Programs near You
Connect directly with Idaho colleges and universities. Click below for
affiliate/sponsored
program information and to speak with an individual school's admissions representative.
CAAHEP Accredited Diagnostic Sonography Programs
Each of these schools has met the CAAHEP DMS Accreditation Standards and Guidelines by passing a series of program reviews, including a self-study review and a site visit.
The successful completion of one of these recognized Idaho DMS programs is the most comprehensive and direct way students can earn eligibility to sit for the ARDMS​​​​​​​​​​​​​​​​​​​​​ Sonography Principles & Instrumentation (SPI) examination.
Accredited Sonography Schools in Idaho in 2020
The following schools have sonography programs that have been accredited by the Commission on Accreditation of Allied Health Education Programs (CAAHEP) as of March 2019.
Institution Name
Location
Program Director
Initial Accreditation Date
Boise State University
1910 University Drive
Boise, ID 83725-1845
Joie Burns MS, RT(R)(S), RDMS, RVT
4/19/2001
Certification Requirements in Idaho
The state of Idaho does not currently require licensure or certification for practicing diagnostic medical sonographers. However, as many employers do require certification, it's a smart thing to consider if you want to be a competitive candidate for these positions. The most highly regarded certification is provided by the American Registry for Diagnostic Medical Sonography (ARDMS).
The only way to earn their certification is by taking and passing their exam. There are currently three locations in Idaho to take the exam. Find the location and contact information on the ARDMS website at ardms.org, or by calling the testing company Pearson Vue at 1-877-258-9220.
In order to take the ARDMS test, you must meet one of their prerequisites. The easiest way to qualify to sit for the exam is to graduate from a program accredited by the Commission on Accreditation of Allied Health Education Programs (CAAHEP).
You can read more about the testing prerequisites on the ARDMS website. You may even want to talk to prospective employers about the certification and educational requirements they have. Request information from several ultrasound technician schools in Idaho, and do the research to make sure that they meet the certification requirements you're looking for.
Additional Certification Information
Idaho Healthcare Career Resources
The majority of ultrasound technicians in Idaho work at general medical and surgical hospitals and physicians' offices.
The median salary (2016-17 data) for diagnostic medical sonographers in Idaho was $70,710.
Job growth in the field is expected to be very high, with a 25% increase expected by 2024. This is considered much faster than the average growth for other occupations.
Is a job in healthcare the right one for you?
City Spotlight: Boise
Ultrasound Technician Schools in Boise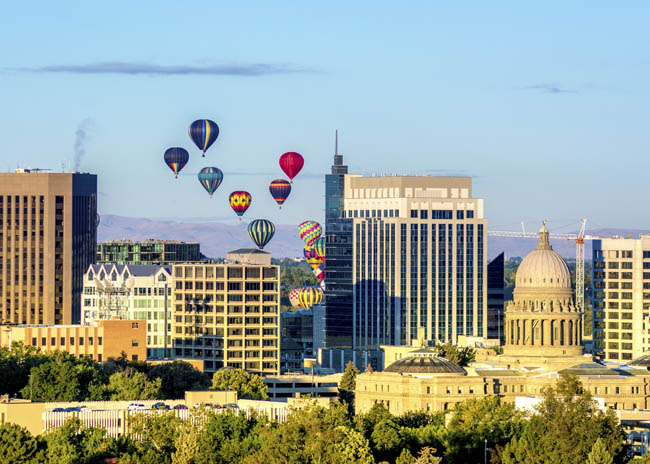 The healthcare industry in Idaho came through the last recession strong, and is currently experiencing very strong job growth. Boise State University is not only one of the top employers in the region, it's also regarded as one of the top undergraduate schools in the region. Its 4-year sonography program has been accredited by the Commission on Accreditation of Allied Health Education Programs (CAAHEP).
Salaries for sonographers in Boise were at a median of $65,000 as of May, 2015. Job growth is strong not only for sonographers, but for those in other allied healthcare positions across the area.
Frequently asked questions
What does an ultrasound technician do?
There's much more than just imaging internal organs. Learn more at: ultrasounddchoolsinfo.com/ultrasound-technician. Get a complete job description, as well as first-hand accounts of what it's like to be a sonographer.
How do I get started?
We'll walk you through all of the steps, starting when you're still in high school or before you've started any formal post-education program, all the way through finding a job and advancing in your career. Get Started Now.
How long do I have to go to school?
Most degree programs are completed within two years.
How do I know if it's right for me?
In order to be successful in the field, you'll need more than just technical knowledge. Here's how you'll know if you've got what it takes.
What other jobs can I get in healthcare?
There are many careers available within the healthcare industry, and we'll introduce you to many of them here.