Find Idaho's Top Sonography Programs in 2021.

Careers in healthcare are experiencing strong growth, and diagnostic medical sonography is no exception. In Idaho, open positions for sonographers are expected to increase by 26% by 2028.  Sonography and medical imaging have become a popular career choice partly because of the relatively short educational period (typically a 2-year AAS degree), the potential for a good salary, and the availability of jobs.
We will go into each of these topics further, as well as connect you with accredited schools where you can complete your education and begin your career as an ultrasound technician.
Take your first step to an in-demand career by requesting information from a school of interest in Idaho. You'll get the opportunity to ask questions from a representative to see if they have the programs you're looking for.
Connect with Educational Programs near You
Connect directly with Idaho colleges and universities. Click below for
affiliate/sponsored
program information and to speak with an individual school's admissions representative.
CAAHEP Accredited Diagnostic Sonography Programs
A school becomes accredited once it has met the CAAHEP DMS Accreditation Standards and Guidelines by passing a series of program reviews, including a self-study review and a site visit. This ensures that the school can provide a high quality education to their students as they prepare to enter the healthcare workforce. The primary accrediting body for sonography programs is the Commission on Accreditation of Allied Health Education Programs (CAAHEP).
The successful completion of a recognized Idaho DMS program is the most comprehensive and direct way students can earn eligibility to sit for the ARDMS​​​​​​​​​​​​​​​​​​​​​ Sonography Principles & Instrumentation (SPI) exam, as well as a specialty exam. Passing both of their exams will allow you to receive professional certification in diagnostic medical sonography.
If you're currently enrolled in or have been accepted to a CAAHEP accredited program, you're also eligible to apply for the UltrasoundSchoolsInfo semi-annual $1,000 scholarship. Click here to learn more.
Accredited Sonography Schools in Idaho in 2021
The following school offers CAAHEP accredited sonography programs as of August 2020.
Institution Name
Location
Program Director
Initial Accreditation Date
Boise State University
1910 University Drive
Boise, ID 83725-1845
Joie Burns MS, RT(R)(S), RDMS, RVT
4/19/2001
If you don't see a sonography program in your area, you may want to consider another allied health program.
Certification Requirements in Idaho
The state of Idaho does not currently require sonographers to obtain certification or licensure. However, many employers prefer or require certification, so it's something to consider if you want to stand out amongst other job candidates.
The most highly regarded certification is provided by the American Registry for Diagnostic Medical Sonography (ARDMS). The only way to earn certification is by taking and passing their exam. There is currently one location where you can take the exam in Idaho:
9183 W Black Eagle Dr, Boise, ID 83709
In order to be eligible to take the ARDMS exam, you must meet their prerequisites.
Besides graduating from a CAAHEP accredited school, the second easiest way to qualify for the exam is 12 months of full-time clinical experience. Request information from several ultrasound technician schools in Colorado to ensure that they meet the certification requirements you're looking for. You may even want to talk to prospective employers about their certification and educational requirements .
Additional Certification Information
How Much do Ultrasound Techs Make in Idaho?
According the the Bureau of Labor Statistics (BLS), the mean annual salary for sonographers in Idaho was $79,000 in 2020, or $37.98 an hour.  Those at the top of their field can earn as much as $100,000 a year. Conditions in your area may vary.
The salary you earn can depend on a number of factors, including level of education and experience, geographic location, and type of employer (ex. outpatient care centers tend to pay the most). Larger imaging centers and hospitals also tend to offer competitive benefit programs in addition to the base salary. An Associate of Science Degree is required to become a sonographer at an entry level position, however earning a Bachelor's Degree will open you up to higher paying job positions.
In addition, the job availability for ultrasound technicians in Idaho is expected to increase by 26% by 2028 (CareerOneStop). Idaho places among the top 15 in the nation in terms of available sonography jobs.
City Spotlight: Boise
Ultrasound Technician Schools in Boise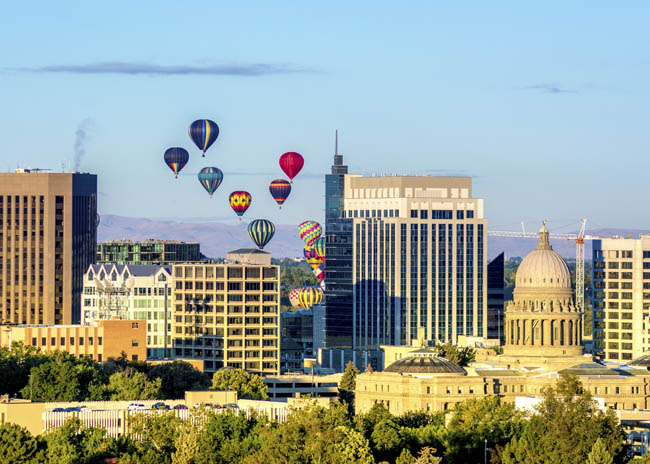 The healthcare industry in Idaho is currently experiencing very strong job growth after coming out of the latest recession. Boise State University is not only one of the top employers in the region, it's also regarded as one of the top undergraduate schools in the region. Its 4-year sonography program has been accredited by the Commission on Accreditation of Allied Health Education Programs (CAAHEP).
Frequently asked questions
What does an ultrasound technician in [state] do?
Sonographers do much more than just image internal organs. They also work closely with other members of the healthcare team and patients, and evaluate the images they capture. Learn more on our ultrasound technician career overview page. Get a complete job description, as well as first-hand accounts of what it's like to be a sonographer.
How do I get started as a medical sonographer in Idaho?
We'll walk you through all of the steps, starting when you're still in high school or before you've started a formal post-education program, all the way through finding a job and advancing in your career. Get Started Now.
How long do I have to go to school?
Most degree programs are completed within two years, which will allow you to earn an Associate's Degree. You can also go to school longer and receive a Bachelor's or Master's Degree, which will allow you to advance your career and increase your salary.
How do I know if sonography is right for me?
In order to be successful in the field, you'll need more than just technical knowledge. Click here to find out about the qualities that make a great sonographer.
What other jobs can I get in healthcare?
There are many careers available within the healthcare industry other than diagnostic sonography, and we'll introduce you to many of them here.