Find Maryland's Accredited Sonography Schools in 2024
Diagnostic medical sonographers are highly skilled and trained members of the allied healthcare team. Ultrasound techs use special equipment that uses sound waves to produce images of the inside of the body. Referring physicians then analyze these images in order to prevent, diagnose, and treat disease, as well as monitor the health of the fetus of an expectant mother.
Sonography is seeing positive momentum within the healthcare industry in part because of the potential for a high salary, relatively short education and training period, and strong job availability.  How to Become a Sonographer in Maryland
Apply to an Accredited Ultrasound Program. Accreditation is one of the most important factors to consider when choosing which ultrasound school to apply to. The CAAHEP is the most widely recognized accrediting body, and Maryland has 4 schools that have received their accreditation.
Get Your Degree. An Associate of Science in DMS is the minimum required to work as a sonographer. Certificate programs are sometimes available to those who hold a previous degree.
Pass the Certification Exam. Maryland doesn't require certification from the ARDMS, but your employer will. Graduating from a CAAHEP accredited program will automatically qualify you to sit for their exam.
Connect with Educational Programs near You
Connect directly with Maryland colleges and universities. Click below for
affiliate/sponsored
program information and to speak with an individual school's admissions representative.
Why Should You Choose an Accredited Diagnostic Sonography Program?
The most widely recognized organization that accredits sonography programs is the Commission on Accreditation of Allied Health Education Programs (CAAHEP). A school receives accreditation from the CAAHEP once it has met their DMS Accreditation Standards and Guidelines. The schools also have to pass a series of program reviews, including a self-study review and a site visit.
The successful completion of an accredited ultrasound program is the most comprehensive and direct way students can earn eligibility to sit for the ARDMS Sonography Principles & Instrumentation (SPI) exam, as well as a specialty exam. Passing both exams will allow you to receive professional certification in diagnostic medical sonography.
If you're currently enrolled in or have been accepted to a CAAHEP accredited program, you're also eligible to apply for the UltrasoundSchoolsInfo $1,000 scholarship. Click here to learn more.
Accredited Sonography Schools in Maryland in 2024
The programs listed below have all been accredited by CAAHEP and offer degrees or certificates in diagnostic medical sonography as of October 2023:
School
Programs
Prerequisites
Apply
Howard Community College
10901 Little Patuxent Parkway
Columbia, MD 21044
Associate of Science – DMS. Specialty tracks in General, Cardiac, and Vascular
Certain College-level prerequisite courses
Begin the application process and take placement exams
Montgomery College
7600 Takoma Ave.
Takoma Park, MD 20912
Associate of Applied Science – DMS. Specialty tracks in General, Cardiac, and Vascular
High school or College transcripts will be reviewed for GPA and prerequisite courses
Applications are due by March 1st of each year.
Johns Hopkins Hospital
111 Market Place
Suite 830
Baltimore, MD 21202
14-month Cardiac sonography training program
2-year clinically related Allied Health degree with appropriate certification, plus prerequisite courses.
Applications due by December 1st of each year.
University of Maryland, Baltimore County
1450 S Rolling Road
Baltimore, MD 21227
Certificate program offering General, Cardiac, or Vascular sonography training
60 college-level credits, including 11 prerequisite courses
Download an information packet to begin.
* This information is obtained from a number of sources, is provided without charge, and is believed to be accurate.  Please contact us with updates.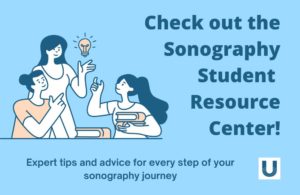 Get Real Advice From Sonography Students, Professionals, and Professors
Visit our student resource center for articles from some of the top sonographers around the country. Whether you're just starting out or looking to move up the career ladder, our experts can help.
Financial Assistance for Sonography Students in Maryland
Scholarships, grants, and loans are available to students who are pursuing a degree.  It's important to understand how they work, and how they may affect your financial picture.  Visit our Financial Aid Portal to learn more.
Below are a few of the scholarships and awards available to those who qualify in Maryland:
How Much do Ultrasound Techs Make in Maryland?
According to the Bureau of Labor Statistics (BLS), the mean annual salary for sonographers in Maryland is $89,910 as of 2022.  Sonographers at the top of their field can earn as much as $100,000 per year. Conditions in your area may vary.
Where you work, whether or not you received certification from the ARDMS, and more can play a role in how much you can earn. For example, outpatient care centers tend to pay the most, though hospitals have the highest employment numbers. In addition, diagnostic medical sonography is one of the highest paying careers available for Associate's Degree holders, and earning a Bachelor's Degree may open you up to higher paying positions.
Certification Requirements in Maryland
Maryland does not require sonographers to possess licensure or certification. However, many employers do require professional certification by the American Registry for Diagnostic Medical Sonography (ARDMS). The only way to earn their certification is by taking and passing their exam. Once you have met one of their prerequisites, you can take the exam at one of the various testing locations in Maryland:
8401 Corporate Dr #250, Hyattsville, MD 20785
4350 E W Hwy #525, Bethesda, MD 20814
9891 Broken Land Pkwy, Columbia, MD 21046
3108 Lord Baltimore Dr # 103, Windsor Mill, MD 21244
716 Maiden Choice Ln #201, Catonsville, MD 21228
927 Eastern Shore Dr, Salisbury, MD 21804
Additional Certification Information
Certification overview
About the ARDMS
City Spotlight: Baltimore
Ultrasound Technician Schools in Baltimore, MD
Baltimore has seen positive job growth in a state where many industries have seen declines in employment. The healthcare industry has been partially responsible for Baltimore's ability to grow in a state with a lackluster economy. In 2021, there were 930 working sonographers in Baltimore, and this number is expected to increase by 16% by 2030 (O*Net).
Attending a sonography program in Baltimore can help you become a part of the rapidly growing healthcare industry. If there isn't a program in your area, consider pursuing one of many related careers.
Other resources: