Find Rhode Island's Sonography Programs in 2023
Diagnostic medical sonographers play an important role in the care of their patients. Working closely alongside physicians, ultrasound techs use special equipment that uses sound waves to produce images of the inside of the body. These images are used by referring physicians to prevent, diagnose and treat disease, as well as monitor the health of the fetus of an expectant mother.
Sonography is seeing lots of momentum because of the prospect of a high salary and the relatively short education and training period.  We will go into each of these topics below, as well as connect you with accredited ultrasound technician schools where you can receive the education you need to become a sonographer.
Connect with Educational Programs near You
Connect directly with Rhode Island colleges and universities. Click below for
affiliate/sponsored
program information and to speak with an individual school's admissions representative.
CAAHEP Accredited Diagnostic Sonography Programs
The most well respected organization that accredits sonography programs is the Commission on Accreditation of Allied Health Education Programs (CAAHEP). A school becomes accredited by the CAAHEP once it has met their DMS Accreditation Standards and Guidelines. The school must also pass a series of program reviews, including a self-study review and a site visit. This makes sure that the students are receiving a quality education that prepares them to enter the healthcare workforce.
The successful completion of an accredited Rhode Island DMS program is the fastest and most straightforward way that students can become eligible for the ARDMS​​​​​​​​​​​​​​​​​​​​​ Sonography Principles & Instrumentation (SPI) exam, as well as an exam in a specific area of study. You need to pass both of these tests in order to receive a professional license in sonography.
If you're currently enrolled in or have been accepted to a CAAHEP accredited program, you're also eligible to apply for the UltrasoundSchoolsInfo $1,000 scholarship. Click here to learn more.
Accredited Sonography Schools in Rhode Island in 2023
The following Rhode Island schools have received accreditation from CAAHEP and offer degrees or certificates in diagnostic medical sonography, as of March 2023:
School
Programs Offered
Prerequisites
How to Apply
Community College of Rhode Island
1762 Louisquisset Pike
Lincoln, RI 02865
2-year AAS in General, Vascular, or Echo Sonography.  Flanagan Campus Only.
High school diploma and select prerequisite courses, passed with a "B-" or better.
Instructions and application can be found here.
Rhode Island Hospital
335R Prairie Avenue
Suite 2A
Providence, RI 02905
Certificate or Bachelor's program in Diagnostic Medical Sonography
There are varying prerequisites depending on the degree pursued.  Learn more on the R.I. College website.
Email LSMI@lifespan.org for full application details
* This information is obtained from a number of sources, is provided without charge, and is believed to be accurate.  Please contact us with updates.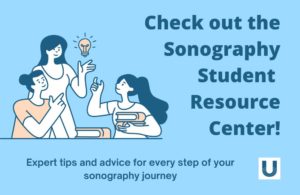 Get Real Advice From Sonography Students, Professionals, and Professors
Visit our student resource center for articles from some of the top sonographers around the country. Whether you're just starting out or looking to move up the career ladder, our experts can help.
Certification Requirements in Rhode Island
Rhode Island doesn't currently require practicing diagnostic medical sonographers to possess certification. However, many employers prefer or require certification, and many states are considering mandating licensure, so it's something to consider if you want to get ahead of other potential job candidates.
The most highly regarded credential is provided by the American Registry for Diagnostic Medical Sonography (ARDMS). The only way to earn their certification is by taking and passing their exam. In order to qualify, you must meet their prerequisites. Once you have, you can take the exam at one of the two testing locations in Rhode Island:
301 Metro Center Blvd # 103, Warwick, RI 02886
36 Hemingway Dr, Riverside, RI 02915
Additional Certification Information
Certification overview
About the ARDMS
How Much do Ultrasound Techs Make in Rhode Island?
According to the Bureau of Labor Statistics (BLS 2022), the mean annual salary for ultrasound techs working in Rhode Island is $96,400 (conditions in your area may vary). This makes Rhode Island the 5th highest paying state in the country for ultrasound techs.  Sonographers at the top of their field in the 90th percentile made an annual mean salary of $122,120, while the bottom 10th percentile earned up to $78,740 a year. Conditions in your area may vary.  In addition, job growth for technologists in Rhode Island is predicted to increase by 8% by 2030 (O*Net).
As you can see, annual wages can differ greatly. This may be because of geographic location, type of employer, level of education, and more. For example, general and surgical hospitals employ the most sonographers, but outpatient care centers tend to pay the best. In addition, an Associate Degree is required for entry level ultrasound tech positions, while a Bachelor's Degree can qualify you for higher paying positions.
City Spotlight: Providence
Ultrasound Technician Schools in Providence
Rhode Island Hospital, located in Providence, has received many awards and accreditations. Some examples include 50 Top Cardiovascular Hospitals 2019", grade "A" for top hospital safety, and many more. The school offers a Bachelor's of science (BS) in Medical Imaging, as well as many different clinical opportunities in order to prepare students to help the community and enter the healthcare workforce.
There were 360 sonographers working in the Providence, RI area in 2020, and their mean annual salary was $90,390, or $43.46 an hour (conditions in your area may vary). This as well as the Rhode Island Hospital, which has a CAAHEP accredited sonography program, makes Providence a great place to complete your sonography education.
Frequently asked questions
What does an ultrasound technician in Rhode Island do?
Sonographers do much more than just image internal organs. They also work closely with other members of the healthcare team and patients, and evaluate the images they capture. Learn more on our ultrasound technician career overview page. Get a complete job description, as well as first-hand accounts of what it's like to be a sonographer.
How do I get started as a medical sonographer in Rhode Island?
We'll walk you through all of the steps, starting when you're still in high school or before you've started a formal post-education program, all the way through finding a job and advancing in your career. Get Started Now.
How long do I have to go to school?
Most degree programs are completed within two years, which will allow you to earn an Associate Degree, though program lengths may vary depending on particular program requirements. You can also go to school longer and receive a Bachelor's Degree, which will allow you to advance your career and possibly increase your salary.
How do I know if sonography is right for me?
In order to be successful in the field, you'll need more than just technical knowledge. Click here to find out about the qualities that make a great sonographer.
What other jobs can I get in healthcare?
There are many careers available within the healthcare industry other than diagnostic sonography, and we'll introduce you to many of them here.