Find Maine's Accredited Sonography Schools in 2023
Sonographers are highly trained individuals that have a passion for patient care.  They use specialized equipment that emits sound waves, which produce images of the inside of the body.  Those images are then used by physicians to diagnose, monitor, and even treat disease, as well as monitor a pregnancy.
The medical industry as a whole is seeing tremendous growth, and medical imaging is progressing as a popular career choice as well. Sonography is one of the highest paying careers available with just an Associate Degree and the field is seeing double digit career growth in Maine as well as across the country.
How to Become a Sonographer in Maine
Apply to a Program. The accreditation a program has is important as it attests to the quality of education and preparation the student receives. The primary accrediting bodies for medical imaging programs is the CAAHEP and the JRCERT. Maine has two such programs, which you will find below.
Get Your Degree. An Associate Degree in DMS is the minimum to get started in the field. Those who meed the educational prerequisites can complete a 12 – 18-month certificate.
Pass the Certification Exam. Upon graduation, students should be prepared to sit for the Sonography Principles and Instrumentation (SPI) exam offered by the ARDMS.
Connect with Educational Programs near You
Connect directly with Maine colleges and universities. Click below for
affiliate/sponsored
program information and to speak with an individual school's admissions representative.
Why Choose an Accredited Sonography School?
Accreditation is one of the most important factors to consider when choosing your sonography program. In sonography and medical imaging, the most widely recognized accrediting body is the Commission on Accreditation of Allied Health Education Programs (CAAHEP).  Graduation from a CAAHEP accredited program automatically qualifies you to sit for the certification exam from the American Registry for Diagnostic Medical Sonography (ARDMS).
Accredited Programs in Maine in 2023
The following schools have degree or certificate programs that have been accredited as of November 2022:
School
Programs
Prerequisites
Apply
Maine College of Health Professions
70 Middle Street
Lewiston, Maine 04240
JRCERT accredited Associate of Science in Radiologic Technology.  Advanced Certificate in Diagnostic Medical Sonography.
Prerequisites vary depending on degree path chosen.
Create an account to begin the application process.
Southern Maine Community College
Campuses in South Portland and Brunswick
CAAHEP accredited Associate of Science degree in Cardiovascular Technology
There are course requirements that must be completed prior to admission.
Begin the application process here.
* This information is obtained from a number of sources, is provided without charge, and is believed to be accurate.  Please contact us with updates.
If you're currently enrolled in or have been accepted to a CAAHEP accredited program, you're also eligible to apply for the UltrasoundSchoolsInfo semi-annual $1,000 scholarship. Click here to learn more.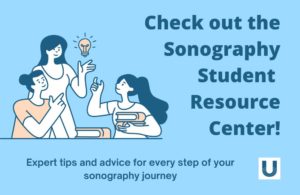 Get Real Advice From Sonography Students, Professionals, and Professors
Visit our student resource center for articles from some of the top sonographers around the country. Whether you're just starting out or looking to move up the career ladder, our experts can help.
Ultrasound Programs in Nearby States
Maine Student Scholarships and Awards
It can be very stressful on students and their families to figure out how to pay for school.  There are grants, scholarships, and loans to navigate, and the amount of information can be overwhelming.  Visit our financial aid portal to learn about the different types of aid as well as pitfalls to avoid.
Below are some of the scholarships and awards available to those students who qualify:
Scholarship
Award Amount
Eligibility Requirements
How to Apply
Ultrasound Schools Info
$1,000 twice a year
Aspiring sonographer currently enrolled in/accepted to a CAAHEP accredited DMS program.
Ultrasound Schools Info
Attn: Scholarship Committee
PO Box 3026
Bellingham, WA 98227
scholarship@ultrasoundschoolsinfo.com
Doctor's for Maine's Future Scholarship
50% of annual tuition costs or $25,000
For medical students with a bachelor's degree enrolled in a participating and accredited medical school in Maine.
Contact a qualifying medical school directly.
Lemieux-Lovejoy Youth Scholarship
$1,500
Awarded to a female high school senior who resides in Maine and is enrolled in an accredited college or program the following fall.
Complete the form.
Richard H. Pierce Memorial Scholarships
$5,000 annually up to 4 years
Based on merit and financial need, must reside in Maine and be enrolled in a two or four year degree program.
Complete the form found on the website.
Maine State Grant Program 
Up to $2,500 annually
Needs-based award for students enrolled at least half-time in an undergraduate program at an accredited and eligible college.
Complete the FASFA each year.
How Much do Ultrasound Techs Earn in Maine?
As of 2021, the mean annual salary for sonographers in Maine is $77,570, or $37.29 an hour. Sonographers earning a salary in the 90th percentile made $98,780 a year, while those in the bottom 10th percentile made a mean annual wage of up to $61,200. Conditions in your area may vary.
The salary you earn can depend on a number of factors, including level of education and experience, geographic location, and type of employer. For example, outpatient care centers tend to pay the most. Larger imaging centers and hospitals also tend to offer competitive benefit programs in addition to the base salary. An Associate Degree is required to become an entry level sonographer, while earning a Bachelor's Degree may open you up to higher paying job positions.
Certification Requirements in Maine
Currently, there are no licensure or certification requirements for diagnostic medical sonographers in Maine. You will find, however, that most employers will require certification from The American Registry for Diagnostic Medical Sonography (ARDMS), which is the primary organization offering certification to sonographers. The only way to earn ARDMS certification is by taking and passing their exam. In order to qualify, you must meet one of their prerequisites. Once you have, you can take the exam at one of the two testing locations in Maine:
10 Ridgewood Dr, Bangor, ME 04401
201 Main St, Westbrook, ME 04092
Additional Certification Information
Certification overview
About the ARDMS
City Spotlight: Portland
Ultrasound Technician Schools in Portland, ME

The economy in Portland, and across Maine, has struggled in recent years due primarily to a shrinking and aging work force. Most job sectors are expecting negative job growth over the next decade, however the medical industry is one of few exceptions. An aging workforce opens up job positions for sonographers as demand for medical care increases, and as jobs open up and people retire. There were 310 working sonographers in Maine as of 2021, and this number is expected to increase by 12% by 2028.
Frequently asked questions
What does an ultrasound technician do?
Sonographers do much more than just image internal organs. They also work closely with other members of the healthcare team and patients, and evaluate the images they capture. Learn more on our ultrasound technician career overview page. Get a complete job description, as well as first-hand accounts of what it's like to be a sonographer.
How do I get started as a medical sonographer in Maine?
We'll walk you through all of the steps, starting when you're still in high school or before you've started a formal post-education program, all the way through finding a job and advancing in your career. Get Started Now.
How long do I have to go to school?
Most degree programs are completed within two years, which will allow you to earn an Associate Degree, though programs lengths can vary depending on specific program requirements. You can also go to school longer and receive a Bachelor's or Master's Degree, which will allow you to advance your career and increase your salary.
How do I know if sonography is right for me?
In order to be successful in the field, you'll need more than just technical knowledge. Click here to find out about the qualities that make a great sonographer.
What other jobs can I get in healthcare?
There are many careers available within the healthcare industry other than diagnostic sonography, and we'll introduce you to many of them here.