How to Become a Medical Sonographer in Wisconsin
Diagnostic medical sonographers are highly trained medical professionals who use specialized equipment to obtain imagines of the inside of the body. Learn how to get started in this challenging and rewarding field.
Choose an Accredited School. There are 8 schools that have received programmatic accreditation from the CAAHEP. Prerequisites vary, so do your research to fill in any gaps and prepare to apply.
Get Your Degree. You'll need an Associate of Science degree in DMS to be eligible for hire. There are also Bachelor's degrees offered at some schools, as well as accelerated certificates for those who qualify.
Receive Your Credentials. Any prospective employer will likely require you to have your RDMS credential. Graduating from a CAAHEP accredited program will automatically qualify you to sit for their exams.
Connect with Educational Programs near You
Connect directly with Wisconsin colleges and universities. Click below for
affiliate/sponsored
program information and to speak with an individual school's admissions representative.
CAAHEP Accredited Diagnostic Sonography Programs
The accreditation of a program is one of the most important factors to consider when researching schools.  With sonography, the accreditation to look for is the Commission on Accreditation of Allied Health Education Programs (CAAHEP).  They are the most widely recognized accrediting body within medical imaging.  Each of the schools below has met the Accreditation Standards and Guidelines set forth by the CAAHEP by passing a series of program reviews, including a self-study review and a site visit.
The successful completion of one of these accredited Wisconsin DMS programs is the most comprehensive and direct way students can earn eligibility to sit for the ARDMS​​​​​​​​​​​​​​​​​​​​​ examination.
Accredited Sonography Schools in Wisconsin in 2024
The following schools have ultrasound programs that have been accredited by the Commission on Accreditation of Allied Health Education Programs (CAAHEP), current as of August 2023:
School
Programs Offered
Prerequisites
How to Apply
Aurora St. Luke's Medical Center
180 W. Grange Avenue
Milwaukee, WI 53207
21-month, full-time program. AAS awarded at graduation.

Associates degree from a 2-year allied health program OR
Bachelor's degree OR
University Partner Student

Applications are accepted via U.S. mail from Oct – Dec of each year.
Learn more here.
Bellin College
3201 Eaton Road
Green Bay, WI 54311
Bachelor of Science in DMS
Enthusiastic and motivated students who have a strong background and understanding of science.
Applications are accepted on the BCU website.  There is no application fee.
Blackhawk Technical College
6004 S County Road G
HS Division
Janesville, WI 53547
Associate in Science degree with flexible learning options
Certain coursework and admissions testing is required.

Documentation of patient-care training must be completed before petitioning.

Students must petition between February 1-5.  The application can be found and submitted online.
Chippewa Valley Technical College
620 W Clairemont Ave
Eau Claire, WI 54701
Associate Degree in DMS, as well as an Advanced Placement Option
Successfully pass the HESI Assessment within three attempts.
Begin the application here.
Concordia University
1670 Miller Park Way
West Milwaukee, WI 53214

Bachelor of Science in DMS
DMS Certificate for qualified applicants

Pre-clinical required coursework, and completion of coursework in a CNA with 100 document hours of patient care.
Students will apply during their sophomore year at CUW
Froedtert Hospital
9200 W. Wisconsin Ave.
Milwaukee, WI 53226
Certificate program in vascular, ObGyn, and Abdominal-Extended sonography.
Successful completion of required college-level coursework, personal statement, two letters of recommendation, verification of patient-care experience, and an interview are all required to apply.
The full application process can be viewed here.
Northeast Wisconsin Technical College
2740 West Mason Street
Green Bay, WI 54303
2-year Associate Degree Program
Applicants are ranked on course load and grades on high school transcript as well as scores on entrance exam.
After creating an account, students will apply online.
University of Wisconsin Hospitals and Clinics
610 North Whitney Way
Suite 440
Madison, WI 53705
Bachelor of Science Degree in DMS
Applicants must be currently enrolled at one of the Academic Affiliates, and currently pursuing a Bachelor of Science Degree
Applications are submitted to the Affiliate University, who then forwards applicatin on to the UW hospital.
* This information is obtained from a number of sources, is provided without charge, and is believed to be accurate.  Please contact us with updates.
Meet Some of Wisconsin's Top Sonography Students
Wisconsin Sonography Student Scholarships
There are several scholarships available to current or prospective students who quaifty. Some are specific to Wisconsin, while others are available nation-wide. Similarly, some are reserved for medical imaging students, while others are open for anyone to apply for.  There are also scholarships and other forms of financial aid offered by the schools themselves.
Be sure to read through the requirements, take your time on the application, and submit your best work to give you the best chance at being selected.
Learn more by visiting our financial aid center.
Scholarship
Award Amount
Eligibility Requirements
How to Apply
Named Donor Scholarship through Bellin College
$1,000+
Offers scholarships to nursing or medical imaging students
Lena Goodman
Director of Financial Aid
lena.goodman@bellincollege.edu
920-433-6638
Holy Family Memorial Scholarship Program
$5,000
Applicant must be accepted into an accredited program in pursuit of a qualifying degree in Nursing, Pharmacy, Physical Therapy, Sonography, Occupational Therapy Speech/Language Pathology or Chaplaincy
Human Resources
PO Box 1450
Manitowoc, WI 54221-1450
recruiter@hfmhealth.org
(920) 320-4031
Ultrasound Schools Info  Scholarship
$1,000
Non-renewable $1,000 scholarship awarded to an aspiring sonographer currently enrolled in a CAAHEP accredited diagnostic medical sonography program, or a high school student who has been accepted to a program.
Ultrasound Schools Info
Attn: Scholarship Committee
PO Box 3026
Bellingham, WA 98227
Ultrasound Technologist Certification Requirements in Wisconsin
Amy potential employer will prefer or even require that you receive your sonography credentials prior to application.
The most common certification in medical imaging is by the American Registry for Diagnostic Medical Sonography (ARDMS).  If you receive your degree from a CAAHEP accredited program, you will automatically qualify to sit for their Sonography Principles and Instrumentation (SPI) and Specialty exams.  In many cases, taking the test is done during your final Semester, or it can be taken upon graduation.
Additional Certification Information
Ultrasound Tech Certification Overview
About the ARDMS Certification
ARDMS Exam Prerequisites
Tips on Passing the SPI
How Much do Ultrasound Techs make in Wisconsin?
Sonography is one of the highest paying jobs available to those who graduate with an Associate's degree.
In Wisconsin, sonographers earned a mean salary of $92,450 in 2022, or $44.45 an hour. Conditions in your area may vary.
Local jobs for sonographers are expected to grow by 17% by 2030, with 140 jobs expected to open up each year.
The following table compares the median annual salaries for Sonographers in the major metropolitan areas of Wisconsin:
|  Metropolitan Area |  2022 Median Salary |
| --- | --- |
| Milwaukee-Waukesha-West Allis, WI | $94,800 |
| Sheboygan, WI | $94,680 |
| Madison, WI | $94,910 |
| Appleton, WI | $93,960 |
| Green Bay, WI | $91,800 |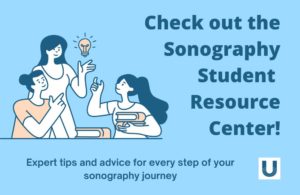 Get Real Advice From Sonography Students, Professionals, and Professors
Visit our student resource center for articles from some of the top sonographers around the country. Whether you're just starting out or looking to move up the career ladder, our experts can help.
City Spotlight: Madison
"By 2030, Wisconsin's population age 65 and older will double, creating an increasing demand for health care now and in the future" (Wisconsin Hospital Association's 2018 Healthcare Workforce Report). As the population ages, both nationally and regionally, the demand for health care workers will increase. Hospitals remain the largest employer of diagnostic medical sonographers, and typically have salaries higher than the state average.
Ultrasound Technician Schools in Madison

The healthcare industry in Madison is flourishing, creating strong job growth and salaries across the field. According to the Madison Region Economic Partnership, the nationally recognized sector attracts and retains more than 63,000 in the healthcare workforce. Salaries in the area are very strong, with the median income for sonographers far exceeding that of the rest of the nation.
Accredited Sonography Programs Available in Madison
UW School of Medicine and Public Health
Become part of this exciting time by completing a sonography program in Madison. If you don't see one in your area, or you aren't able to meet its entrance requirements, consider pursuing a career in one of the many fields of allied health, which is also experiencing strong job growth.