Diagnostic medical sonographers use sound waves to capture images of the internal organs and tissues inside the body. They work alongside physicians who use these images to prevent, diagnose and treat disease, as well as monitor the growth of a fetus.
Sonography is becoming a popular career choice in part because of the relatively short training period, potential for high salary, and strong job outlook.
How to Become a Sonographer in Hawaii
Choose an Accredited Ultrasound Program. If possible, select a program that has been accredited by the CAAHEP. Admission is often selective, so research programs ahead of time to make sure you have met all of the prerequisites.
Get Your Degree. You will need to have at least an Associate of Science degree in medical sonography. Some schools offer accelerated certificates to those students who already hold a degree in another discipline.
Receive Your Credentials. Any prospective employer will likely require you to have your RDMS credential. You can get this by meeting one of their requirements and passing their exams.
Connect with Educational Programs near You
Connect directly with Hawaii colleges and universities. Click below for
affiliate/sponsored
program information and to speak with an individual school's admissions representative.
CAAHEP Accredited Diagnostic Sonography Programs
The primary accrediting body for sonography programs is the Commission on Accreditation of Allied Health Education Programs (CAAHEP). A school becomes accredited by CAAHEP once it has met the DMS Accreditation Standards and Guidelines. It also has to pass a series of program reviews, including a self-study review and a site visit. This makes sure that the school can provide a high quality education to their students as they prepare to enter the healthcare workforce.
The successful completion of an accredited Hawaii DMS program is the most comprehensive and direct way students can earn eligibility to sit for the ARDMS​​​​​​​​​​​​​​​​​​​​​ Sonography Principles & Instrumentation (SPI) exam, as well as a specialty exam. Passing both of their exams will allow you to receive professional certification in diagnostic medical sonography.
If you're currently enrolled in or have been accepted to a CAAHEP accredited program, you're also eligible to apply for the UltrasoundSchoolsInfo $1,000 scholarship. Click here to learn more.
Accredited Sonography Schools in Hawaii in 2024
As of March 2023, the state of Hawaii does not have any sonography programs that have been accredited by CAAHEP.  There are various allied health education programs at the state's community colleges, as well as the radiology tech program below.
School
Program
Prerequisites
Apply
Kapiʻolani Community College
4303 Diamond Head Road Honolulu, Hawaii 96816
Associate of Science degree in radiologic technology
Prerequisite courses with a grade of "C" or better, plus an entrance exam.  Admission to the program is limited.
Download the application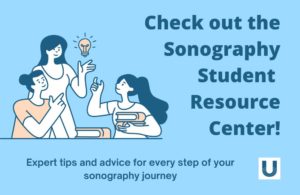 Get Real Advice From Sonography Students, Professionals, and Professors
Visit our student resource center for articles from some of the top sonographers around the country. Whether you're just starting out or looking to move up the career ladder, our experts can help.
Sonography Student Scholarships and Awards
Below are just a few of the scholarships available to those who qualify in Hawaii:
Scholarship
Award Amount
Eligibility Requirements
How to Apply
Ultrasound Schools Info
$1,000
Aspiring sonographer currently enrolled in/ accepted to a CAAHEP accredited DMS program.
Ultrasound Schools Info
Attn: Scholarship Committee
PO Box 3026
Bellingham, WA 98227
scholarship@ultrasoundschoolsinfo.com
University of Hawaii Regents Scholarship
$4,000 a year and a one-time travel grant of $2,000
Awarded to students with a record of outstanding academic achievement.
Complete an application on the school's website.
OHA Native Hawaiian Scholarships
Varies
Offered to Native Hawaiian STEM students pursuing a post-secondary degree or vocational or technical education.
Complete an application.
Alaka'ina Foundation Endowed Scholarship
$2,500
Awarded to new first-year and/or transfer students for their first year of study at Chaminade. Must be of Native Hawaiian ancestry.
Apply to Chaminade University, complete the FASFA, and submit a scholarship application.
How Much do Ultrasound Techs Make in Hawaii?
Sonographers in Hawaii earned a mean annual salary of $105,850 in 2022, or $50.89 an hour, according to the Bureau of Labor Statistics (BLS). Conditions in your area may vary.
There is currently a shortage of educated, trained healthcare workers in Hawaii. This combined with the aging population of the state has increased the demand for medical care, which has created a unique opportunity for diagnostic medical sonographers and other health care workers. This can mean higher salary and higher availability of jobs (24% increase by 2030, according to O*Net).
Certification Requirements in Hawaii
Hawaii doesn't currently require licensure or certification for practicing diagnostic medical sonographers. However, most employers require, or may give hiring preference, to applicants who are certified.
The most widely accepted certification is provided by the American Registry for Diagnostic Medical Sonography (ARDMS). The only way to earn their certification is by taking and passing their exam. There is currently only one location in Hawaii to take the exam:
1441 Kapiolani Blvd, Honolulu, HI 96814
Geography can make attaining an accredited education difficult in Hawaii, so be sure to read through the ARDMS prerequisites. You may even want to talk to prospective employers about their certification and educational requirements.
Additional Certification Information
Certification overview
About the ARDMS
Frequently asked questions
What does an ultrasound technician in Hawaii do?
Sonographers do much more than just image internal organs. They also work closely with other members of the healthcare team and patients, and evaluate the images they capture. Learn more on our ultrasound technician career overview page. Get a complete job description, as well as first-hand accounts of what it's like to be a sonographer.
How do I get started as a medical sonographer in Hawaii?
We'll walk you through all of the steps, starting when you're still in high school or before you've started a formal post-education program, all the way through finding a job and advancing in your career. Get Started Now.
How long do I have to go to school?
Most degree programs are completed within two years, which will allow you to earn an Associate Degree, though program lengths may vary depending on specific program requirements. There are also 4-year Bachelor's degree programs offered at many schools.
How do I know if sonography is right for me?
In order to be successful in the field, you'll need more than just technical knowledge. Click here to find out about the qualities that make a great sonographer.
What other jobs can I get in healthcare?
There are many careers available within the healthcare industry other than diagnostic sonography, and we'll introduce you to many of them here.