Find West Virginia's Sonography Programs in 2024
Join the growing field of medical imaging by attending one of the accredited ultrasound technician schools in West Virginia, which you'll find listed below. The coursework is rigorous and programs are selective, but as a graduate you'll be presented with a positive job outlook in a rewarding field.
Diagnostic medical sonographers are a critical component of patient care. They use sophisticated equipment to image the inside of the body, and the physicians they work with use those images to diagnose and treat a variety of diseases. Below we'll discuss the job outlook in W. Virginia, as well as certification requirements and salaries for ultrasound technicians and related careers.
How to Become a Sonographer in W. Virginia
Select an accredited ultrasound program. It's important to research not only the accreditation of the school, but of the ultrasound program itself. Ideally, you should choose one that has been accredited by the CAAHEP. This will assure you that the education and training they provide will meet or exceed industry standards. WV has 4 facilities that have received this level of recognition.
Get your degree. You will need a minimum of an Associate of Science degree in medical sonography to be eligible for entry-level positions. There are Bachelor's degrees offered by some Universities, and healthcare professionals who already hold a degree can apply to accelerated Certificate programs.
Receive your credentials. Very few states require licensure, but your employer will almost certainly require that you have your RDMS credential from the RDMS. Graduating from a CAAHEP accredited program will satisfy the prerequisites to sit for their exam.
Connect with Educational Programs near You
Connect directly with W. Virginia colleges and universities. Click below for
affiliate/sponsored
program information and to speak with an individual school's admissions representative.
Why Choose a CAAHEP Accredited Diagnostic Sonography Program?
The accreditation of the program you're considering applying to is very important.  In medical imaging, the Commission on Accreditation of Allied Health Education Programs (CAAHEP) is the most widely recognized accrediting body.  To receive their accreditation, each of the schools below has met the guidelines set forth by the CAAHEP by passing a series of program reviews, including a self-study review and a site visit.
The successful completion of one of these CAAHEP accredited W. Virginia DMS programs is the most comprehensive and direct way students can earn eligibility to sit for the ARDMS​​​​​​​​​​​​​​​​​​​​​ Sonography Principles & Instrumentation (SPI) examination.
Accredited Ultrasound Technician Schools in West Virginia in 2024
The following programs offer certificates or degrees in DMS that have been accredited by the Commission on Accreditation of Allied Health Education Programs (CAAHEP) as of November 2023:
School
Programs Offered
Prerequisites
How to Apply
BridgeValley Community and Technical College
2001 Union Carbide Drive
South Charleston, WV 25303
Associate Degree in Applied Science
Certain prerequisite courses are required, as is documentation of sonographer shadowing experience.
Applications and supporting documentation are submitted online by March 15th of each year.
St. Mary's Medical Center
2900 First Ave
Huntington, WV 25702
Hospital-based program, awarding a Bachelor's Degree in DMS
Core radiography courses must be passed with a minimum GPA of 3.0.
Applications are accepted from January 1 to April 1 of each year. Download the application here.
United Hospital Center, Inc.
327 Medical Park Drive
Bridgeport, WV 26330
18-month, hospital-based certificate program
Applicants must have completed an accredited radiology tech program and possess ARRT credentials.
Completed application and applicable transcripts must be submitted via mail by February 1st of each year.
West Virginia University Hospitals
PO Box 8062
Medical Center Drive
Morgantown, WV 26506
18-month certificate program
Applicants must be graduates or pending grads of an accredited Associate's degree program in radiography.
Completed application and supporting documentation must be postmarked by February 1st of each year.
* This information is obtained from a number of sources, is provided without charge, and is believed to be accurate.  Please contact us with updates.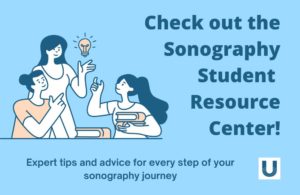 Get Real Advice From Sonography Students, Professionals, and Professors
Visit our student resource center for articles from some of the top sonographers around the country. Whether you're just starting out or looking to move up the career ladder, our experts can help.
Sonography Student Scholarships
Financing your education is one of the biggest concerns for most students and their families.  The information can be overwhelming, as are the cautions on how to avoid scams.  Learn more by visiting our Financial Aid Portal.
Below are just a few of the scholarships available to those students who qualify in W. Virginia:
Scholarship
Award Amount
Eligibility Requirements
How to Apply
College for West Virginia
Varies
Database of scholarships available to students who are residents of W. Virginia.
Create a profile and receive monthly emails with applicable scholarships to apply for.
Ultrasound Schools Info
$1,000
Aspiring sonographer currently enrolled in/accepted to a CAAHEP accredited DMS program.
Ultrasound Schools Info
Attn: Scholarship Committee
PO Box 3026
Bellingham, WA 98227
scholarship@ultrasoundschoolsinfo.com
Perryman Foundation
varies
The foundation offers needs and merit-based scholarships to students pursuing STEM or nursing degrees.
Begin the application process online or email apply@perrymanfoundation.org to learn more.
Certification Requirements in West Virginia
Like most of the rest of the country, W. Virginia has no specific licensure or certification requirements for ultrasound technicians to practice their trade. However, most employers will prefer or even require a professional credential, so it's wise to consider how you'll obtain that in order to make yourself competitive in the job market.
The American Registry for Diagnostic Medical Sonography (ARDMS) is the most widely accepted certification organization. They administer tests in sonography and many of its related specialties, and you must pass one of those tests to be awarded their certification.
The ARDMS has identified several different prerequisites for taking their test, but you only need to meet one of them. Read through your options on their website to determine which one will be the easiest for you to meet.
Additional Certification Information
Certification overview
About the ARDMS
Tips on Passing the SPI
How Much do Ultrasound Techs in W. Virginia Earn?
Many factors influence your potential salary, from your level of education, the type of employer you work for, or the area you work in.  The U.S. Bureau of Labor Statistics (BLS) states that in May, 2022, sonographers in West Virginia earned a mean annual salary of $68,080.  For ultrasound technologists just entering the job market, the starting salary was up to about $56,000, while those at the top of the earning curve made over $87,000 per year (Conditions in your area may vary).
Job Growth
Major job growth in the health care industry is expected in W. Virginia over the coming years. An aging population increases the demand for technicians, and employment growth for ultrasound techs is expected to be 22% in WV by 2030.
Additional Career Resources
Sonographer overview
Other jobs in healthcare
Is a job in healthcare the right one for you?
City Spotlight: Charleston
Ultrasound Technician Schools in Charleston

The local economy in Charleston has seen a shift from coal and natural gas to healthcare and education. As is seen across the country, the healthcare industry has been, and will continue to be, one of the primary drivers of the economic turnaround.
Completion of a sonography program in Charleston, such as Bridge Valley Community and Technical College, may make you a competitive candidate in this growing economy. If you don't see a program in your area, or aren't yet able to meet its prerequisites, consider a career in allied health, which is also expecting double digit job growth.