Find New Mexico's Accredited Sonography Programs in 2023
Using the power of sound waves, diagnostic medical sonographers perform ultrasound imaging procedures on patients, which allows them to capture images of the internal organs or vascular system. Referring physicians then use these images to diagnose and treat a wide range of conditions, as well as monitor the growth of a fetus.
Sonography is becoming an increasingly popular career choice because of the potentially high salary, relatively short education and training period, and strong job growth. We will go into each of these topics below, as well as connect you with accredited ultrasound technician schools where you can receive the education you need to become a sonographer.
How to Become an Ultrasound Technologist in NM
Choose the Right School. It's important to research the accreditation of not only the school, but the program itself. If possible, choose one that has been accredited by the CAAHEP. That will provide you with the best education and training and will prepare you to get your credentials upon graduation. New Mexico has two such programs.
Get Your Degree. An Associate of Science in Diagnostic Medical Sonography is required for entry-level positions. Some colleges offer Bachelor's degree programs, and there are often accelerated Certificates for those who meet the educational and experiential prerequisites.
Pass the Certification Exam. You will need to become certified by the ARDMS or ARRT upon gradation, and NM also requires that sonographers be licensed through the New Mexico Environment Department.
Connect with Educational Programs near You
Connect directly with New Mexico colleges and universities. Click below for
affiliate/sponsored
program information and to speak with an individual school's admissions representative.
Why Choose a CAAHEP Accredited Diagnostic Sonography Program?
When a school or program becomes accredited, that means that they have been evaluated by an independent, outside agency and have been found to meet industry standards.  The most highly regarded organization that accredits sonography programs is the Commission on Accreditation of Allied Health Education Programs (CAAHEP). A school becomes accredited by CAAHEP once it has met their DMS Accreditation Standards and Guidelines. The school must also pass a series of program reviews, including a self-study review and a site visit.
The successful completion of a recognized New Mexico DMS program is the most comprehensive and direct way students can earn eligibility to sit for the ARDMS ​​​​​​​​​​​​​​​​​​​​​ Sonography Principles & Instrumentation (SPI) exam, as well as a specialty exam. Passing both of their exams will allow you to receive professional certification in diagnostic medical sonography.
If you're currently enrolled in or have been accepted to a CAAHEP accredited program, you're also eligible to apply for the UltrasoundSchoolsInfo $1,000 scholarship. Click here to learn more.
Accredited Sonography Schools in New Mexico in 2023
The schools below have been accredited by CAAHEP and offer degrees or certificates in diagnostic medical sonography as of February, 2023:
School
Programs Offered
Prerequisites
How to Apply
Central New Mexico Community College
525 Buena Vista Dr SE
Albuquerque, NM 87106
Associate of Applied Science in Diagnostic Medical Sonography
Certain college-level coursework must be completed prior to application.
Begin the pre-registration screening process.
Dona Ana Community College
3400 S Espina St
MSC 3DA
PO Box 30001
Las Cruces, NM 88003
AAS in Sonography or a Certificate Program
Associate Degree requires:

College-level prerequisite courses with min 3.0 GPA

Certificate requires:

2-year allied health degree or
Bachelor's Degree in a medically-related science

Application deadline is September 1st. Start the process here.
* This information is obtained from a number of sources, is provided without charge, and is believed to be accurate.  Please contact us with updates.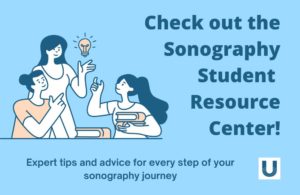 Get Real Advice From Sonography Students, Professionals, and Professors
Visit our student resource center for articles from some of the top sonographers around the country. Whether you're just starting out or looking to move up the career ladder, our experts can help.
Financial Aid and Scholarships
Funding your education is one of the major stressors for students and their families.  Visit our financial aid information platform to learn more about the options for paying for school.
Below are just a few of the scholarships available to those students who qualify:
Scholarship
Award Amount
Eligibility Requirements
How to Apply
Ultrasound Schools Info
$1,000
Aspiring sonographer currently enrolled in/ accepted to a CAAHEP accredited DMS program.
Ultrasound Schools Info
Attn: Scholarship Committee
PO Box 3026
Bellingham, WA 98227
scholarship@ultrasoundschoolsinfo.com

New Mexico Higher Education Department

Varies
Several state scholarships and grants are available for students, depending on GPA or financial need.
Visit the website or email fin.aid@hed.nm.gov to learn more.
New Mexico Educational Assistance Foundation
Up to full tuition and fees
Students must be a resident of NM, be attending a public college, and be enrolled full time.
Learn more here.

Del Norte Credit Union Community Scholarship

Varies

NM residents who are high school seniors and will be attending college or vocational school, full time, at an accredited public institution.

Complete the application form and send in the required documents.
Certification Requirements in New Mexico
New Mexico is one of only four states that requires practicing sonographers to receive a license (click here for more information). The state requires that medical imagers get certified from either the Cardiac Credentialing International (CCI), the American Registry of Radiologic Technologists (ARRT), or the American Registry for Diagnostic Medical Sonography (ARDM).
If you complete your degree program at a CAAHEP accredited institution, you should be eligible upon graduation, or possibly during your senior year, to sit for one of the credentialing exams.
Additional Certification Information
Certification overview
About the ARDMS
How Much do Ultrasound Techs Make in New Mexico?
The mean annual wage for practicing sonographers in New Mexico in 2022 was $79,780, or $38.36 per hour, according to the Bureau of Labor Statistics (BLS). Those working at the top of their field in the 90th percentile made $101,670 a year, while those in the lower 10th percentile earned up to $62,960. Conditions in your area may vary. Job availability is expected to increase by 25% by 2030 in New Mexico (O*Net)
The salary you may earn depends on a number of factors, including type of employer, level of education and experience, and geographic location. For example, outpatient care centers tend to pay the most, while larger imaging centers and hospitals typically offer competitive benefit programs as well as a base salary. Receiving an Associate of Science Degree in DMS is required to become an entry level sonographer, while earning a Bachelor's Degree can qualify you for higher paying job positions.
City Spotlight: Albuquerque
Ultrasound Technician Schools in Albuquerque

There were 310 sonographers working in Albuquerque in 2020, and they earned a mean annual salary of $73,010* (BLS 2020). While unemployment rates fluctuate, jobs in healthcare are some of the most recession resistant. Medical imaging jobs in New Mexico are expected to increase by 26% within the next 8 years (O*Net) as the demand for healthcare increases due in part to New Mexico's popularity as a retirement state.
CAAHEP Accredited Institutions in Albuquerque offering a sonography degree:
Central New Mexico Community College
Get started on a career as a sonographer and become a part of the booming healthcare industry by attending a school or program in the Albuquerque area.
Frequently asked questions
What does an ultrasound technician in New Mexico do?
Sonographers do much more than just image internal organs. They also work closely with other members of the healthcare team and patients, and evaluate the images they capture. Learn more on our ultrasound technician career overview page. Get a complete job description, as well as first-hand accounts of what it's like to be a sonographer.
How do I get started as a medical sonographer in New Mexico?
We'll walk you through all of the steps, starting when you're still in high school or before you've started a formal post-education program, all the way through finding a job and advancing in your career. Get Started Now.
How long do I have to go to school?
Most degree programs are completed within two years, which will allow you to earn an Associate Degree, though program lengths may vary depending on specific program requirements. You can also go to school longer and receive a Bachelor's or Master's Degree, which will allow you to advance your career and increase your salary.
How do I know if sonography is right for me?
In order to be successful in the field, you'll need more than just technical knowledge. Click here to find out about the qualities that make a great sonographer.
What other jobs can I get in healthcare?
There are many careers available within the healthcare industry other than diagnostic sonography, and we'll introduce you to many of them here